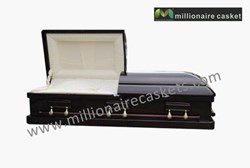 (PRWEB) October 03, 2013
MillionaireCasket.com is a leading producer of high-quality caskets and other funeral products that are custom-made in China. Today, the company introduces its wholesale business of wood caskets.
The company added a new production line of wood caskets last month. Now, MillionaireCasket.com's productivity has increased 30% percent, which comes along with a lower average price on every casket. The USA and Australian markets are very important for every casket manufacturer and supplier; MillionaireCasket.com has decided to explore its effluence in these markets.
In comparison, many customers are impressed with the quality of MillionaireCasket.com's casket. It is said there are some real differences between MillionaireCasket.com products and other suppliers' products. MillionaireCasket.com's caskets are handmade and customized to specific orders.
MillionaireCasket.com's experience gives the company a unique understanding of what goes into the custom-made casket that it produces. MillionaireCasket.com's expertise to bring casket products to the global market is based on over 10 years of experience in casket manufacturing.
The CEO of the company says, "We are increasingly doing more and more business in the world, and we knew MillionaireCasket.com could handle the position and become a global leader in the casket industry."
MillionaireCasket.com hopes to be a one-stop funeral supplier. The company has invested much money in the technology which enables them to serve new markets and meet the international demand for all kinds of caskets.
About MillionaireCasket.com
MillionaireCasket.com is a leading China casket manufacturer (more details at http://www.millionairecasket.com), and focuses on the business of casket wholesale. Besides caskets, MillionaireCasket.com also makes and supplies urns, embalming tables, church trucks, stretchers and more.