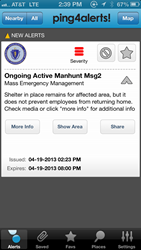 Nashua, NH (PRWEB) October 03, 2013
In the 12 months since adopting ping4alerts!, MEMA (Massachusetts Emergency Management Agency) has used the mobile alert platform to manage a series of public emergencies including Hurricane Sandy, Winter Storm Nemo, and the Boston Marathon Bombing. Throughout these events, MEMA was able to deliver rich media content – images, video, web links and custom audio—directly to Commonwealth mobile devices to help keep citizens informed and safe.
"Ping4alerts! is a free, downloadable app for your Apple or Android device," said MEMA director Kurt Schwartz. "You set it up by selecting what alerts you want to receive and that's it. MEMA can log into a web-app, draw a shape on a map as small as a city block to as large as the state of Massachusetts, and push an alert only to people within that geo-fence."
MEMA has been instrumental in the development of new product features for the mobile startup.
"The Ping4 engineering team has been very responsive to product input," said Schwartz. "Just recently, Ping4 Inc. has added a feature where users can now decide which alerts to receive and with specific alerting sounds. It's a great tool also being used in Worcester County, Dukes County and Nantucket."
At the Emergency Management Summit in Boston last week, Director Schwartz reminded the audience of the sobering fact that Massachusetts has been spared from a widespread disaster such as an earthquake. Due to the unique geology of Massachusetts, a 6.2 earthquake within 30 miles of Boston would devastate the city and many nearby communities. In times of a disaster like this, MEMA will still be able to reach Commonwealth citizens and visitors alike via ping4alerts!, which uses WiFi, cellular and GPS technology to communicate with users.
"Governor Duval Patrick and Director Kurt Schwartz recognize the importance of innovative technology to help keep citizens safe," said Jim Bender, CEO of Ping4, Inc. "The Commonwealth is fortunate to have forward thinkers who understand that it's a mobile World and that mobile technology can absolutely improve the quality of life. ping4alerts! is a terrific example of that technology."
About Ping4 Inc.
Ping4 Inc., is a Nashua, New Hampshire software company utilizing the latest in push technology to deliver real-time, location-based, multimedia alerts to any iOS or Android mobile device. Public safety agencies license the platform to keep citizens informed of extreme weather events and other fast-moving situations. Consumers are not required to give up any personally identifiable information. User identity is 100% protected. More information is available at http://www.ping4.com.
Contact:
Kyla Natali, Public Relations Manager
E-mail: Kyla.Natali(at)ping4(dot)com
Phone: (603) 548-8533