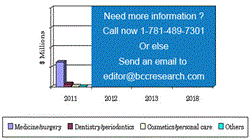 Wellesley, MA (PRWEB) October 04, 2013
According to a new technical market research report, Bioactive Materials: Technologies and Global Markets from BCC Research (http://www.bccresearch.com), the global market for bioactive materials was valued at $792.3 million in 2012 and is expected to reach $890.4 million by 2013. BCC Research projects the market to grow to $1.7 billion in 2018, and register a five-year compound annual growth rate (CAGR) of 13.8% from 2013 to 2018.
Bioactive materials represent a category of biomaterials materials that react with body tissues and fluids without adverse reactions in the body. They can be made from different types of materials, such as ceramics, glass, glass-ceramics, and composites. In this study the term bioactive materials refers in particular to synthetic materials developed during the last 50 years that are commercially available in various configurations such as powders and nanopowders, granules, monoliths, injectable, and moldable products and coatings.
Since BCC Research began tracking the bioactive materials market in 2006, the industry has been growing at a significant pace. With applications spanning a range of industries such as medicine and surgery, dentistry and periodontics, pharmaceuticals, bioengineering, cosmetics and personal care, and other consumer products, the demand for bioactive materials is projected to continue growing at a rapid rate during the next five years.
BCC Research attributes the increased market penetration of these materials to several factors, including a rapidly aging population in need of medical care; increasing incidence of orthopedic and spinal procedures related to leisure activities, road accidents, and treatment of diseases; and greater use of synthetic materials for grafting procedures. Indeed, the need for materials that allow tissues to be regenerated and repaired more quickly to reduce hospital stays and that can be applied with minimally invasive or noninvasive procedures are key to the growth in this market. In addition, the penetration of bioactive materials in developing countries will continue to spur growth for this industry in the foreseeable future.
This comprehensive report from BCC Research provides an updated review of the bioactive materials market by focusing on materials and fabrication technologies. It highlights new technological developments during the past three years, while outlining current technical issues; identifies current and emerging applications for bioactive materials; and estimates current global markets for bioactive materials by type, product shape, and application and region, along with growth forecasts through 2018.
In addition, this report offers an updated review of current industry players, including manufacturers of bioactive materials, technology developers, and future market participants; provides descriptions of the most relevant research and development activities; and reviews trends in recently issued U.S. patents.
This report will be of primary interest to all companies and organizations involved in manufacturing, selling, and distributing bioactive materials and other biomaterials. It is mainly directed toward executives, directors, surgeons, dentists, healthcare professionals, production managers, sales and marketing managers, and strategic planners working within these areas. Universities and research facilities will also find this report to be a good source of technical information regarding bioactive materials, fabrication processes and applications, which can be used as a baseline for new or expanded R&D activities. Librarians of technical information and research centers can also use this report to provide critical data to healthcare personnel, product managers, market analysts, researchers, and other professionals needing detailed and updated insights into the bioactive materials industry.