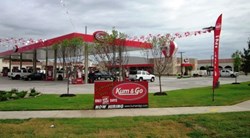 Doing what's right has always been one basic principle.
Johnston, IA (PRWEB) October 03, 2013
Henning Construction Co. has once again had the privilege of working with Kum & Go this year to deliver sixteen new stores to their fleet. During the long term partnership that Henning Construction has had with Kum & Go, one basic principle that is always strived for is "Doing What's Right." It's something that is said at every level of Kum & Go employees, from the CEO to store personnel.
This concept is easily seen on the construction side of Kum & Go. Every store built screams dedication to environment friendly construction practices. Kum & Go does what is right for the environment first and considers the financial impact second. That's how the 2013 store model was designed and built. Henning Construction's first chance to build this model was in Tulsa, OK at store #872 located on S. Mingo Road.
Most people know by now that all new construction Kum & Go stores are LEED Certified. This means we are already involved in practices like recycling a minimum of 50% of all construction trash, not allowing smoke, dust, or VOC's in the building during construction to ensure the best indoor air quality, and using as many local resources as possible to keep trucking to an absolute minimum. What you may not know is just how high tech the stores are becoming to consume less energy while in operation.
Kum & Go #872 has many state of the art features. Introduced into the 2013 building design is an Energy Recovery Unit (ERV) which utilizes exhaust air from the restrooms to heat/cool incoming fresh air for the building. This process uses free energy to reduce electrical consumption when before it was simply being wasted.
Also new to the 2013 design is a makeup air unit for the exhaust fan used in the kitchen. This process is not new to anyone, but by using state of the art equipment that is digitally controlled and monitored by a master HVAC computer, this system only operates when required and eliminates the need to heat/cool air that is just being exhausted outside.
Other energy saving features used on this store are LED lighting, including exterior fixtures and signage, central refrigeration compressor unit which allows a majority of heat creating equipment to be mounted on the roof of the building, and low usage plumbing fixtures. Rigid insulation 1.5" thick was added between the building sheeting and masonry to minimize heat loss, and some of the storefront glazing had a grey tint added to the low-e glass to reduce solar heat gains. In addition to these building features, the landscaping was designed to utilize plants with low water usage to reduce irrigation water times.
When you visit your local Kum & Go store, you may not see the differences, but be assured We Go All Out Doing What is Right, including the environment. We at Henning Construction are proud to be partners with Kum & Go and building the best convenience stores in the market. The construction team consisted of Joe Lauritson (Estimating), Todd Ross (Superintendent), Shadrach Sporaa (Project Manager) and Scott Newbury (Kum & Go Project Manager).