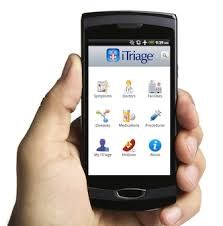 Since being founded in 2011 by Chris and Golda Obinzu, God & Christ Care, LLC has quickly become San Antonio's most trusted and leading provider in home health care.
San Antonio, Texas (PRWEB) October 09, 2013
Today two of the leading companies in their markets, God & Christ Care, LLC and iTriage, partnered in order to better serve families in San Antonio and the surrounding areas who require a wide range of home health care services. Clients who are not only senior citizens but those of all ages who have chronic or long term disabilities, mobility constraints or cognitive disabilities. With the technology offered by iTriage, families will be able to easily locate and directly communicate with God & Christ Care, LLC and their team of nurses, therapists and caregivers.
iTriage was founded in 2008 by two emergency medicine physicians in Denver, Colorado. The mobile application and website have been used by more than 9.5 million health care consumers to locate providers in their corresponding areas. In late 2011, the White House placed considerable focus on iTriage as an innovator for growth in the healthcare industry. They offer a proprietary Symptom-to-Provider™ pathway that provides consumers an easy and comprehensive way to make better health care decisions by asking "What could be wrong?" and "Where could I go for treatment?"
Since being founded in 2011 by Chris and Golda Obinzu, God & Christ Care, LLC has quickly become San Antonio's most trusted and leading provider in home health care. Through community programs and their team of highly trained, accredited and compassionate team of caregivers they now serve not only San Antonio but 94 surrounding counties.
Their comprehensive home care services include:
● Home health care for adults, people with disability and elderly
● Pediatric home health care
● Companion care
● Personal assistance
● Respite care
● Therapy care
● Sitter services
● Non-medical services
● Intermittent care
● Daily living activities
In order to meet the needs of their elderly clients, they have created tailored services that include:
● Medical care
● Companionship
● Respite care for family members
● Bathing and dressing
● Elderly sitter services
● Light housekeeping
● Transportation and errands
● Transfer assistance
● Diet monitoring and meal preparation
● Medication reminders
● Bedside monitoring
● Long term senior care
Striving to be pioneers in the home health care market, God & Christ Care, LLC not only continually evolves with the growing physical needs of their clients, but the ever-changing ways patients and healthcare providers communicate. With 85% of U.S. adults using the internet, companies will have to adapt to provide the best possible service. Through social media and partnering with iTriage, God & Christ Care, LLC will pave the way for all other home health care facilities and companies alike. It is reported that 45% of U.S. adults are living with at least one chronic condition and 70% of people 65 and older will, at some point, require long-term health care. Senior citizens are not the only ones who require long-term or in-home care; 40% of adults cared for by home health care agencies are between the ages of 18 and 64. The consumer healthcare industry will need to position themselves to better care for and communicate with their patients and families as technology advances. By providing their clients and families with this invaluable tool, they will be providing a seamless gateway for Harvard Medical School reviewed information and an open line of communication with the team at God & Christ Care, LLC. With 53% of adults who are currently living with one or more chronic condition researching health care needs online, their partnership will facilitate better client care and more effective communication to the families of San Antonio and the surrounding areas.
About God and Christ Care Home Health
At God & Christ Care, LLC, we believe in the power of one word: And. To us, and means more- more love, more respect, more care, more services, more healing. We aim to provide superior care and respect to our clients and our employees. We offer short term care and long term relationships with our company. Your loved one should not have to choose between exceptional service, great value, or superb caregivers. They should receive all of that from their home health care service and more.
Ask God & Christ Care, LLC what we can do for your family, and then ask again. We promise to do the same for you. We make it our mission to provide residents of the greater San Antonio area the best possible home health care in the comfort of their own home. We believe life is the most precious gift, and we aim to honor and nurture the lives of every individual who enters our carefully designed health programs.
Media Contact: For interviews, graphics or additional requests, please contact us at contactinfo(at)godandchristcare(dot)com or 830-438-9101.