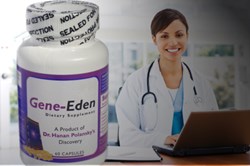 Time and again, we find that new research supports our understanding that helping the immune system target the latent virus is the best way to prevent disease. – Mike Evans, polyDNA
Rochester, NY (PRWEB) October 06, 2013
There are no FDA approved antiviral drugs that target the Epstein Barr Virus (EBV). Nevertheless, some drugs have shown promising activity in the lab according to a study published in 2005 in the Journal of Antimicrobial Chemotherapy (2).
The CDC says that EBV is a major health problem. "Epstein-Barr virus, frequently referred to as EBV, is a member of the herpes virus family and one of the most common human viruses. The virus occurs worldwide, and most people become infected with EBV sometime during their lives (3)." In addition, EBV causes "infectious mononucleosis 35% to 50% of the time. Symptoms of infectious mononucleosis (IM) are fever, sore throat, and swollen lymph glands. Sometimes, a swollen spleen or liver involvement may develop (3)."
Attempts to use broad range antiviral drugs such as acyclovir showed limited effectiveness. Study authors wrote that, "Despite the availability of many antiviral drugs starting with acyclovir that are potent inhibitors of EBV replication in cell culture, clinical trials of aciclovir (another name for acyclovir) for the treatment of patients with IM have failed to detect benefit (2)." Thus, "Despite their potency in vitro (in cell culture), these drugs have limited use in vivo (in patients) for treatment of acute primary EBV infection as well as EBV-associated malignancies… (2)."
The authors of the study made an important statement. "Development of novel antiviral drugs that target non-replicative viral proteins, are among the more promising approaches that might lead to effective treatment of EBV-related diseases (2)." In other words, the authors said that antiviral products, which target the latent EBV, may be the most effective treatments against EBV related diseases.
"Time and again, we find that new research supports our understanding that helping the immune system target the latent virus is the best way to prevent disease." – Mike Evans, polyDNA
Gene-Eden-VIR is a natural EBV remedy proven in a clinical study to reduce symptoms associated with an EBV infection (1). A recent post marketing clinical study published in the peer reviewed, medical journal Pharmacology & Pharmacy, in a special edition on Advances in Antiviral Drugs on August 12, 2013 showed that Gene-Eden-VIR is safe and effective (1).
Each ingredient of Gene-Eden-VIR was chosen through a scientific approach. Scientists scanned thousands of scientific and medical papers published in various medical and scientific journals around the world to identify the safest, most effective natural ingredients that target the latent form of herpes. (1)
To learn more about Gene-Eden-VIR and herpes, visit http://www.gene-eden-kill-virus.com/Herpes-Remedy.php. All orders of Gene-Eden-VIR are completely confidential, and no information is shared or sold to any third party. Privacy is assured.
Reference:
(1) http://www.scirp.org/journal/PaperInformation.aspx?PaperID=36101
(2) http://www.ncbi.nlm.nih.gov/pubmed/16006448
polyDNA is a biotechnology company that develops dietary supplements using the unique scientific method developed by Dr. Hanan Polansky, which is based on Computer Intuition.
In addition to his unique scientific method, Dr. Polansky published the highly acclaimed scientific discovery, called Microcompetition with Foreign DNA. The discovery explains how foreign DNA fragments, and specifically, DNA of latent viruses, cause most major diseases.
polyDNA developed Gene-Eden-VIR, an antiviral natural remedy that helps the immune system kill latent viruses.