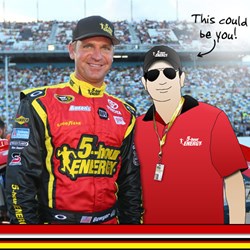 "I didn't believe it at first. I had to listen to the message at least ten times and I kept saying, "No way, this isn't real!" Now it's starting to sink in and we are just so excited." - Tara Mager
(PRWEB) October 03, 2013
5-hour ENERGY® is excited to announce that Tara Mager from New Jersey is the lucky winner of the Race Reporter Sweepstakes. Tara will experience a prize package that most race fans can only dream about, which includes:
Travel and accommodations for the winner and guest to Charlotte, NC from October 11 through October 13
Unique team access at the track including garage and pit tour, driver introductions and watching the Bank of America 500 from the pit box
Honorary pit crew memberships
Winner's name on Clint Bowyer's #15 5-hour ENERGY® Toyota Camry
Two tickets to the NASCAR Hall of Fame
Transportation to and from race, and to and from hotel/airport
Michael Waltrip Racing shop tour
The chance to meet and have pictures taken with Michael Waltrip and Clint Bowyer
Tara entered the 5-hour ENERGY® Race Reporter Contest with her husband, Harry, in mind. Not only is Harry a huge racing fan, but his passion for NASCAR is what led Tara to become a fan. Before the couple met 17 years ago Tara said she did not watch races, but now it is something her family enjoys doing together. When she entered the Race Reporter Contest, Tara jokingly told her husband that if she won it would be her gift to him for his 50th birthday, which he celebrated on September 29. Tara said it came as a surprise to hear she won, but now that things are starting to sink it she is getting more excited for this once in a lifetime experience.
Tara has never been to a NASCAR race, so she said being able to attend a Chase race with her husband is a dream come true. She is also looking forward to meeting Clint Bowyer and watching the race from the pits because it's in the center of all the action. 5-hour ENERGY® will be checking in on Tara's Race Reporter experience during and after her trip so watch the 5-hour ENERGY® Website, Blog, Facebook and Twitter for updates.