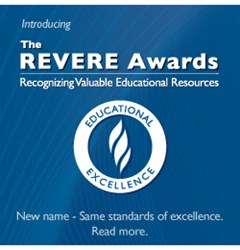 Philadelphia, PA (PRWEB) October 05, 2013
The PreK-12 Learning Group of the Association of American Publishers (AAP) has announced a new award within its REVERE Awards program called Beyond the Classroom. This award was created to honor the wealth of resources that support learning and build knowledge outside formal class time or beyond school walls. Eligible entries for Beyond the Classroom include materials already available in bookstores and libraries, museums, supply, and toy stores, on the web and via app stores that teachers, parents, and learners can buy directly and use almost immediately.
Beyond the Classroom welcomes educational products that are typically unaligned with formal curricula, pedagogy, or standards and do not include teacher/facilitator guides or assessment materials. These types of products may be intended for use in after-school programs, youth programs, cultural centers (e.g. museums, science centers, gardens, or historical sites), or in the home.
Specific examples of eligible products include books (fiction, nonfictions, test prep, and reference), toys, puzzles, workbooks, activity kits, visual learning aids, games in any media, websites, apps, or hardware/ software programs. There are no categories for this competition. Materials for all ages and in all media are encouraged. The submission period will open in mid-October and the early submission deadline is November 15, 2013. Details about this new category and entry guidelines are available at http://www.AEPweb.org.
About the REVERE Awards
The REVERE Awards program, presented by the PreK-12 Learning Group of the Association of American Publishers, is the most prestigious and comprehensive recognition program in the learning resource community. Honoring excellence across all resources for preK-12 and adult learners, educators, and administrators, the program includes The Distinguished Achievement Awards, The Innovation Awards, The Golden Lamps, and Beyond the Classroom. The REVERE's wide range of categories welcome all types of materials in any media and for any educational setting. Publishing houses, nonprofit organizations, museums and cultural centers, technology firms, schools, colleges, and research societies have received awards from this program since it was founded in 1967. Read more at http://www.AEPweb.org.
About the AAP PreK-12 Learning Group
A division within the Association of American Publishers, the PreK-12 Learning Group serves its diverse membership by providing valuable resources and industry intelligence; fostering a fair, competitive and robust market; and encouraging the development of professional, quality content for teaching and learning. The Learning Group engages state, local, and federal policy leaders on such issues as funding, curriculum, testing, and literacy, and also organizes events, awards, and programs to support professionals at all levels. In 2013, the School Division of the AAP merged with the Association of Educational Publishers (AEP) to form the PreK-12 Learning Group, which combines AAP's proven strengths in advocacy and legal affairs with AEP's successful programs for the benefit of its members. Read more at http://www.AEPweb.org.