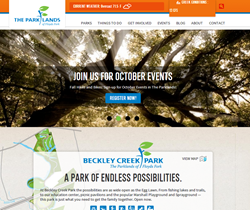 We think this is one of the best park websites out there.
(PRWEB) October 03, 2013
The Parklands of Floyds Fork now has a website that is almost as explorable and unique as the park itself.
OOHology, a Louisville-based digital marketing agency, designed and developed the custom website for The Parklands, a 21st Century Parks project. The park's size and complexity called for a custom-built Content Management System (CMS), allowing users to deeply explore the park's features while eliminating dead ends. The site also features a comprehensive Google map with overlays, distinguishing the park's unique features.
"We wanted to present the website to the visitor in the same way that the visitor might visit the park," said Mark Palmer, founder and executive creative director of OOHology. "Some visitors will have a specific intent, such as hiking or kayaking, others will simply want to explore. We feel this playful interface allows and promotes both. Our intent is that the website enhances and promotes the physical park experience."
The website is a responsive design, meaning it functions on any smartphone, tablet or computer without losing functionality. This allows any user on any device to find the information they are searching for without compromising the experience.
"We're thrilled to have a new website centered around the user experience," said Jim Moore, 21st Century Parks' senior vice president and chief operating officer. "A park the size of The Parklands needs a great website to help tell its story. We think this is one of the best park websites out there."
Upon completion in 2015, The Parklands will spread nearly 4,000 acres, making it the largest park development project in Louisville and Jefferson County since the construction of the original Olmsted parks and parkways in the late 1800s.
To see The Parklands of Floyds Fork's new website, visit theparklands.org. See more of OOHology's work at oohology.com.