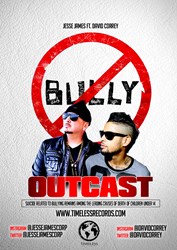 Brazilian born Correy has been quoted saying, "Young kids need something to believe in."
Miami, Florida (PRWEB) October 03, 2013
Miami based rapper Jesse James and rising super star David Correy (X-Factor, Coca-Cola 2014 World Cup Anthem), have come together to release a new anti bullying anthem entitled "Outcast." The song is part of the new Jesse James project "Ahead of My Time" which also features Maybach Music Group's Fat Trel.
David Correy, best known as a 2012 "X-Factor" finalist who re-connected with his birth mother via the reality show was chosen by Coca-Cola to sing their global 2014 FIFA World Cup anthem, "The World is Ours," according to an exclusive statement to Billboard by Coca Cola sources in September of this year. (Billboard.com)
Brazilian born Correy has been quoted saying, "Young kids need something to believe in," and his collaboration with Jesse James has created a timeless anthem for the world wide anti bullying movement.
Rhode Island born rapper Jesse James is no stranger to hardship himself. Of mixed parentage, the MC grew up in an area labeled by Rolling Stone Magazine as the "cocaine capital." Being of mixed race brings its own set of problems and bullying issues, but James can identify with the overwhelmingly similar situations suffered by victims of bullying, no matter where they are.
Visuals for the song "Outcast" give a poignant, gut wrenching representation of the pain and hopelessness felt by those attacked and harassed by bullies, in person, social media or other means. The video is designed to motivate and inspire viewers to not allow bullies to continue costing the world its most precious resource…our young people. It also has an inspirational 'don't give in to bullies' message.
Suicide as a result of bullying is one of largest factors in deaths of young people under the age of 14 and according to the governmental web site http://www.stopbullying.gov, "In 12 of 15 school shooting cases in the 1990s, the shooters had a history of being bullied."
"Outcast" is a timeless call to action to end bullying, provide supportive situations for those in need and an inspirational message to those who suffer from being bullied, to not give up as there are people who care.
In a genre of music which has been slammed for not caring about social issues, rapper Jesse James' "Outcast" featuring rising star David Correy, says, "We are here and we want to help."
For more information on Jesse James and his new project "Ahead of My Time" featuring the viral single "Outcast," please visit http://www.timelessrecords.com.