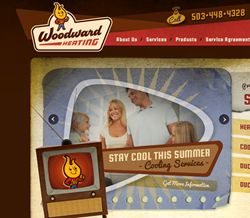 Salem, OR (PRWEB) October 03, 2013
Woodward Heating, a family-owned HVAC business located in Oregon, has recently unveiled a complete revamping of its company logo and website.
Woodward Heating has been family-owned and operated since it began in 1989. This EPA and NATE-certified contractor also carries industry leading products like Lennox and Mitubishi.
A staple of the Willamette and Salem Valley regions, Woodward Heating has always been known for its reputable, high quality service.
In a market with over 60 different contractors, Owner and General Manager Scott Woodward needed a strong and compelling way to stand out from the competition. He enlisted the services of Graphic D-Signs, Inc., The Small Business Advertising Agency ® to craft a new logo and website.
Graphic D-Signs, Inc. is an award-winning full service marketing agency based in Washington, NJ. For over 17 years, Graphic D-Signs, Inc. has worked with over 550 different small businesses nationwide on new branding, logo, marketing and website initiatives.
The image overhaul centered on creating a more progressive, established, and retro brand--something Graphic D-Signs, Inc. has become nationally-recognized for by authorities like SignCraft Magazine.