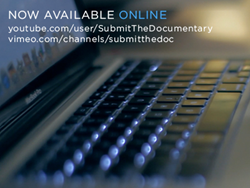 Finally a calm rational discussion about cyberbullying that includes children, as well as credible informed professionals.
Atlanta, GA (PRWEB) October 24, 2013
The award winning cyberbullying movie "Submit the Documentary" is now free online via the websites (http://www.submitthedocumentary.com), Vimeo, and YouTube. The anti-bullying movie explores more than just the physical side of bullying, which is what makes the film so unique, the film uncovers the truth behind sexting and cyberbullying. The powerful stories from parents who have lost young teens from cyberbullying captivate the audience starting with the Megan Meier Story, then Hope Witsell and Johanna Lowe. While the film focuses on three main parents it also directly asks the students, experts, teachers, law enforcement and politicians what they can do to end this cycle.
To watch the anti-bullying movie on Vimeo, visit (https://vimeo.com/channels/submitthedoc) also DVDs are available from the film's website along with educational kits, complimentary educational downloads for parents, teachers and teens.
Highlights of "Submit the Documentary", include experts Mary Kay Hoal, Alice Cahn, Dr. Sheri Bauman, Robin Ann Sax, Sameer Hinduja, Debbie Wasserman Schultz and many more. To maintain the goal of everyone being able to see the film, Director Les Ottolenghi wanted to distribute the film online at no cost so anyone that wanted to and needed to see the movie can do so.
There are two versions of the film available, Director's Cut is 56 minutes long and was given a rating of PG-13 by Common Sense Media (http://www.commonsensemedia.org/movie-reviews/submit-the-documentary-the-virtual-reality-of-cyberbullying), to accommodate younger viewers PLAT4M STUDIOS also created a PG version of the film that is 50 minutes long.
To watch "Submit the Documentary" on YouTube visit (https://www.youtube.com/watch?v=L3LZ_t5jZk0&list=SP0NUUV9FnueyZ2_8BGIaRdZm9TDeDb_Yd&index=1)
The cyberbully's arsenal is vast and ever growing. Cyberbullies have more than a fist to attack with. Online, a cyberbully can publish degrading messages about the victim, spread altered photos, impersonate their victim and assume the victim's identity online and affect their relationship with others.
In the end, there is not one single place to go for help, or so it seems. The responsibility lies with all of us in keeping our children safe online, on social media networks, and mobile applications.
Electronic Press Kit (http://www.submitthedocumentary.com/press-2/)