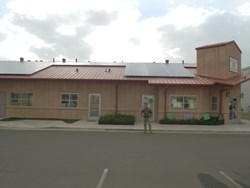 "We are happy to get solar electricity for our energy needs. It does make sense financially and socially" - Dr.Singh
California (PRWEB) October 03, 2013
Ensupra Solar LLC has installed 193 solar panels of 280 Watt each. The panels are installed on the roof of the hospital. The system uses Grid Tie Inverter, interacting with PG&E utility company.
The Grid-tied Solar Electrical System is a grid energy storage system which links to the mains to feed excess capacity back to the electrical grid, rotating the meter backwards. When insufficient solar electricity is generated, electricity drawn from the mains grid can make up the shortfall, rotating the meter forward.
As per Dr. Singh, the hospital main doctor and the owner of the building, going for solar energy provides an ambiance of goodwill among the hospital visitors. Everyone looks forward to see the hospital operating completely from free natural electrify provided by unlimited solar energy.
Ensupra team has installed more than one thousand of residential and commercial solar power plants in several states of USA including California, Texas and New Jersey. The company has also installed solar plants in Singapore and India.