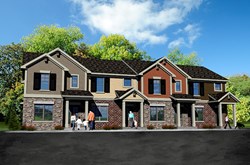 It's an exciting time for the City. New developments and proposals for projects are being presented each week. This City, brought to its knees only 5 years ago, has swung aggressively into high gear. This is only the beginning. - Chad Pelley, Compass
Cedar Rapids, IA (PRWEB) October 22, 2013
On October 2nd, the City of Cedar Rapids approved the permit for construction at the first of four proposed buildings along a one block stretch of Ellis Boulevard, one of the hardest hit areas impacted by the flooding that occurred in June of 2008.
Compass will begin initial underlay of sewer, plumbing and electrical systems upon which the foundation will be poured for an IEDA supported 4-plex housing structure. This 4-plex will feature 2-story rental housing inclusive of basements, one car garage per unit, exterior living space, additional outdoor parking as well as state of the art amenities throughout each unit.
Upon completion of the initial structure, Compass plans to continue development of this block with a 5-plex structure that will feature additional 2-story units to be sold as a part of the approved city funded ROOTS assisted living program. Two completely separate detached homes will complete Compass' development plans for this particular block. These two homes, a two-story and a ranch, are also a part of the ROOTs funded program for affordable housing.
The City Council has repeatedly endorsed the redevelopment of this area and has been extremely complimentary of the design and 'upscale personality' proposed for these housing units.
Upon receipt of grant approval and before the first shovel went into the ground, the phones were ringing in the Compass offices with strong public interest in these beautiful new homes. Potential buyers are anxious to know when the homes will be ready and how can they can purchase one.
This block is only the first step on a list of potential sites proposed by several different investors & developers to revitalize and re-characterize the Ellis Boulevard neighborhood. It will further contribute economic stability and monetary growth to the City of Cedar Rapids. Completion of the Compass constructed development will happen by December 2014 and will then be ready for occupancy.
About Compass Commercial Services
Compass Commercial Services is a full-service General Contracting and Construction Management firm in the Cedar Rapids area specializing in a wide range of commercial construction projects including interior and exterior renovations, remodeling, building additions and the complete construction of new buildings. As a TRUE design-build firm, Compass Commercial Services is poised to complete projects from the ground up. From the initial design through the entire building process, customers have the advantage of working directly with one company, and a team that is structured to deliver final projects on time, and on budget.