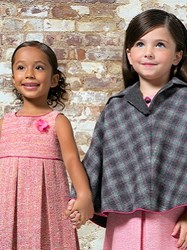 I believe that positive messages can influence a life, and I want girls to find inspiration to celebrate themselves and their unlimited potential.
New York, NY (PRWEB) October 08, 2013
mimivail, the designer of high-quality children's dresses under the tagline, "celebrating little girls," introduces a bold, new concept in fashion by imprinting a confidence-building, life-affirming message on the lining of every dress in the collection.
Known for dresses that are smart and expressive — with vivid pops of color and unforgettable details — mimivail has always lined every dress in its collections, but is now imbuing the lining with meaning.
"I founded mimivail to provide girls with a stylish but still fittingly youthful alternative to overly trendy outfits by creating a line that reminded me of my own childhood but reconceived with a fresh take for today," said Vail Weymann Vasisht, a former Wall Street executive. "Now I'm thrilled to take mimivail to the next level by incorporating a confidence-building message on the inside of our dresses, reminding girls to listen to themselves — to strive to be strong, honest, creative, courageous, understanding, proud, determined, responsible, compassionate, fabulous … the list continues. I believe that positive messages can influence a life, and I want girls to find inspiration to celebrate themselves and their unlimited potential. Why not remind them every morning when they get dressed?"
The imprint containing these positive attributes was designed by Ms. Vasisht in the shape of the mimivail logo. It's no accident that she added them to the lining near the heart rather than to the packaging, underscoring for young girls that what's on the inside is just as, if not more important, than what's on the outside.
This thoughtful theme and commitment to transforming fashion into meaningful statements and philanthropy pervades the mimivail brand, which has partnered with two not-for-profit organizations:

The Dystrophic Epidermolysis Bullosa Research Association of America (DebRA), which is dedicated to finding a cure for a rare genetic disorder that causes painful, fragile skin and recurrent blisters called epidermolysis bullosa (EB).
"Because EB is exacerbated by minor friction such as putting on and removing clothing, the range of clothes people with EB find comfortable is so limited," said Ms. Vasisht. "When I learned that one little girl with EB named Rafaella (Rafi) was able to wear mimivail dresses, I was so delighted and inspired. I decided to design one Rafi dress in every collection that she — and all girls — can feel good in. If Rafi can forget about her disease by wearing one of my dresses, then I have accomplished something extraordinary." A portion of the proceeds from each Rafi dress sold go to DebRA.
Light Gives Heat (LGH), which works with women artisans in Jinja, Uganda, to provide a consistent source of income. Every season, mimivail works with LGH to design a bracelet, made out of recycled paper, to complement the collection. Every mimivail dress comes paired with a bracelet.
To learn more about mimivail or to shop online, visit http://www.mimivail.com. For wholesale purchasing, contact Crescala Fashion Development: sales(at)crescala(dot)com.