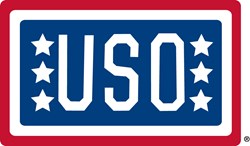 Arlington, VA (PRWEB) October 03, 2013
WHAT: 2013 USO Gala: Honoring Those Who Serve
WHEN: Friday, October 25, 2013
4:30 p.m. Media in place for interviews
5:00 p.m. USO Service Member of the Year interviews
6:00 p.m. Red Carpet/VIP Reception
7:30 p.m. Dinner & Evening Program
WHERE: Washington Hilton
1919 Connecticut Avenue, NW
Washington, DC 20009
WHO: Spirit of the USO Award

Master of Ceremonies

Dennis Haysbert, American film, stage and television actor/USO tour veteran
Sloan Gibson, President, USO
USO Service Members of the Year Awards

Soldier of the Year: Sergeant Craig D. Warfle, 2nd Battalion, 75th Ranger Regiment (Fort Lewis, WA)
Marine of the Year: Sergeant Andrew C. Seif, 2d Marine Special Operations Battalion, U.S. Marine Corps Forces Special Operations Command (Camp Lejeune, NC)
Sailor of the Year: Petty Officer 1st Class Andrew C. Munden, Explosive Ordnance Disposal Mobile Unit THREE, Naval Amphibious Base Coronado (San Diego, CA)
Airman of the Year: Staff Sergeant Christopher D. Broyles, 140th Explosive Ordnance Disposal Flight (Buckley Air Force Base, CO)
Coast Guardsman of the Year: Petty Officer 3rd Class Samuel A. Peikert, Tactical Law Enforcement Team South (Opa Locka, FL)
National Guardsman of the Year: Staff Sergeant Christopher D. Petersen, 103rd Rescue Squadron, New York Air National Guard, Francis S. Gabreski Airport (Westhampton Beach, NY)
USO Volunteer of the Year Award

Gunnery Sergeant Jeremiah Johnson, USO Camp Hansen and USO Camp Schwab (Okinawa, Japan)
Special Guests

Harlan Coben, #1 New York Times bestselling author of SIX YEARS, STAY CLOSE, LIVE WIRE, CAUGHT, LONG LOST, and HOLD TIGHT. Coben has over 50 million books in print worldwide.
Phillip Margolin, author of seventeen New York Times bestselling legal thrillers, including SLEIGHT OF HAND, and former criminal defense attorney for over a quarter of a century.
F. Paul Wilson, New York Times bestselling author of the Repairman Jack novels, including DARK CITY, and winner of the Bram Stoker Award for Lifetime Achievement.
Kathleen Antrim, award-winning author of CAPITAL OFFENSE, journalist, columnist and radio personality.
Heather Graham, New York Times bestselling author of more than a hundred novels including her most recent novel, THE NIGHT IS FOREVER.
WHY: Continuing a time-honored tradition of recognizing the bravery, loyalty and heroism of an enlisted service hero from each branch of the military, the USO will present this year's USO Service Member of the Year Awards at the star-studded 2013 USO Gala in Washington, DC on Friday, October 25, 2013. The USO will also present its USO Volunteer of the Year Award and Spirit of the USO Award.
On September 18, 2013, the heroes and their significant others were recognized by 20th Century Fox for their service and sacrifice, and invited to attend the star-studded "Runner, Runner" premiere at Planet Hollywood in Las Vegas as special guests. While onsite the group walked the Red Carpet and were treated to photos with Justin Timberlake, who extended his heartfelt congratulations and gratitude.
For more than 72 years, the USO has been lifting the spirits of America's troops and their families. An estimated 1,100 guests will gather to pay special tribute to our men and women in uniform. Guests include Washington dignitaries, celebrities, Members of Congress, military leadership, members of the USO Board of Governors and USO Corporate sponsors.
The USO is a private, nonprofit organization that lifts the spirits of America's troops and their families millions of times each year at hundreds of places worldwide. It provides a touch of home through USO centers at airports and military bases in the U.S. and abroad, top quality entertainment and innovative services. The USO also provides critical support to those who need us most, including forward-deployed troops, military families, wounded warriors and their families and the families of the fallen. USO programs and services are made possible by the American people, support of our corporate partners and dedication of our volunteers and staff.
Chair: David J. McIntyre, Jr., TriWest Healthcare Alliance
Co-Chairs: Rima Al-Sabah, Lilibet Hagel, Barbara Levin, Patricia McKeon, Deanie Dempsey, Mary Jo Myers, Margaret Gibson
Sponsors:
TriWest Healthcare Alliance
Military.com
Procter & Gamble
Chevron
The Chrysler Foundation
Express Scripts Federal Pharmacy Services
Huntington Ingalls Industries
Northrop Grumman Corporation

Altria
BAE Systems
The Coca-Cola Company
DynCorp International
Lockheed Martin Corporation
United Healthcare Military & Veterans
Tickets: $1,000 per ticket. For more information or to obtain table sponsorship information, visit uso.org/gala or contact gala(at)uso(dot)org.
###