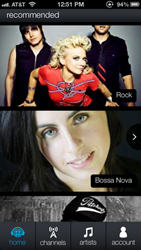 Los Angeles, Calif. (PRWEB) October 04, 2013
Earbits, an innovative online radio and music marketing platform, today announced its new, free streaming radio app for iPhone and iPad. Available worldwide, the streaming app combines users' own music with songs from over 12,000 high quality independent artists and leverages Earbits' disruptive business model to enable commercial-free listening with on-demand play and no usage or skip restrictions.
After installing the mobile app, consumers receive music channel recommendations based on existing songs stored on their mobile devices. Earbits then intelligently blends users' songs into its 380 channels of commercial-free music. The result is easier, faster discovery of the world's best indie music. Consumers can play Earbits curated channels or songs on their mobile devices, switching seamlessly between their music and Earbits' catalog. Unlike other streaming music apps, the Earbits iPhone and iPad app is available worldwide and without commercial interruptions. Consumers can download the Earbits iPhone app here: https://itunes.apple.com/us/app/earbits-free-radio/id701027627?ls=1&mt=8
Like the Web experience and the Earbits Android app released earlier this year, iOS app users earn Groovies for every artist-friendly action they take, which they redeem for access to on-demand songs and other rewards. Earbits makes it simple for listeners to support their favorite artists by recommending an artist to a friend via Facebook, tweeting about a band, or joining the artist's email list, all of which earn 50 to 100 Groovies.
"The Earbits Radio iOS app puts artists in the center of the experience, providing simple ways for listeners to engage with them," said CEO Joey Flores. "This approach generates more value for content owners than the ad- and commercial-supported models of other net broadcasters, giving us the flexibility to offer consumers around the world an experience free of commercials or usage limitations."
About Earbits
Earbits is the first commercial-free, streaming music service designed exclusively for marketing music products and live events. Earbits allows labels, bands and concert promoters to buy increased exposure in targeted channels under its Priority Airtime program. The company already has 630 labels, 12,000 artists and over 380 channels on its fast-growing, online music service. Founded in January 2010 with headquarters in Venice, CA, Earbits is funded by renowned Y Combinator, Charles River Ventures, former Lala CEO Geoff Ralston, WordPress founder Matt Mullenweg, and SproutBox. For more information, visit http://www.earbits.com.
Media Contact
Joey Flores
855-327-2487 | joey(at)earbits(dot)com