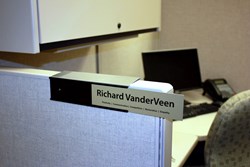 Name plates slide in and out easily for the ultimate in cubicle city mobility
Grand Rapids, MI (PRWEB) October 08, 2013
NapTags of MI announces innovative new changeable cubicle nameplate holders that slide over the top of cubicle walls. Name tags and signs slide in-and-out with ease for the ultimate in cubicle city mobility!
Better than the traditional cubicle nameplates with pins or velcro that can damage the wall, these new nameplate holders are a simple, damage-free way to make your office look more professional, even if you move them every day. They give you the look of traditional nameplates that sit on a desk or attach to office doors, but are made for cubicle walls.
Quickly and easily move the holder to a new cubicle, or slide in new nameplates as employees change cubicles. Ideal for directional and informational signs too! Order slide-in cubicle nameplate holders online.
With a base of heavy-duty aluminum, these new cubicle nameplate holders are made for a variety of name tags or signs that easily slide into the holder.
The base that slides over the cubicle wall is made of strong, silver aluminum. Attached to the front of the base is a nameplate holder to slide in a new nameplate or sign. The name tag holder itself comes in polished silver, polished gold or matte black to match your office color scheme and the nameplate itself.
Standard size cubicle name plate holders – 2" x 8" or 2" x 10" – are ready for immediate shipment, and custom sizes are also available. In addition, different depths have been created for the nameplate holders, so they fit snugly over the cubicle wall. Choose from standard depths of 2", 2.25", 2.5", 2.75" or 3" sizes, or custom order your exact size. Prices range from $8.40 each to $13.45 each, depending on quantity and size.
If you already have name plates that are 2" x 8" or 2" x 10", they will likely slide right into the new holders. Or, NapTags can create custom nameplates or signs for you. Aluminum and brass metal nameplates can be engraved. Plastic nameplates come in dozens of colors and can be printed in full color or engraved. Add your company logo or other graphics by emailing artwork.
To improve the aesthetics of your own cubicle city, call at 800-451-3330 or visit NapTags.com.
NapTags is a US manufacturer of all types of metal tags, plastic tags and engraved tags based in Belmont Michigan. The company is focused on providing superior products with fast shipping, friendly service and affordable prices. Businesses across the United States rely on NapTags.com for professional tags, metal labels, signs and more for indoor or outdoor use, even in harsh environments.