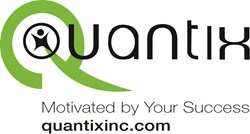 Denver, CO (PRWEB) October 08, 2013
Quantix, Inc. is pleased to announce its inclusion on the 2013 Inc. 5000 list of fastest growing companies in America. It's the second year in a row Quantix made the list, coming in at No. 892 for 2013.
Quantix, one of the nation's leading IT recruiting firms, ranked No. 22 on the Top Companies in Colorado on the 2013 Inc. 5000. To see Quantix's profile on the Inc. 5000 list, visit http://www.inc.com/profile/quantix.
"It is certainly an honor to be included again in the Top 5000 fastest growing companies in the nation. I believe it is a testament to the shared vision and work ethic of each of our employees," said Jill Reynolds, President and CEO. "Our corporate culture is predicated on maintaining the right chemistry, both within our doors and at our client sites. We will strive to continue the level of service that has placed us in such prestigious company."
This year's list measured revenue growth over the last three years. To qualify, companies had to be founded and generating revenue as of March 31, 2009. In addition, these U.S.-based companies must be privately held, for profit, and independent (as of December 31, 2012).
For more information and to see the list in its entirety, visit http://www.inc.com/inc5000.
To learn more about Quantix, please visit http://www.quantixinc.com.
About Quantix, Inc.
Since 2002, Quantix, Inc., a woman-owned corporation, has risen as a national leader in IT staffing and professional services. They deal openly and honestly with their clients and consultants and have built a solid reputation for integrity and consistent quality. Their goal is to become a member of their client's team, understand their hiring needs and deliver targeted talent and services at reasonable rates. Quantix offers a full range of technology staffing services including contract, contract-to-hire, direct-hire, strategic staffing and executive search. They provide individual consultants and project teams to Fortune 500, 1000, mid-size companies and governmental agencies across the country.