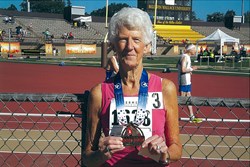 I'm not about to stop.
Winston-Salem, NC (PRWEB) October 03, 2013
The North Carolina Senior Games (NCSG) were hosted in Raleigh and Cary from September 23 to 29, 2013.
NCSG started in 1983 as a non-profit organization dedicated to promoting health and education programs for adults 55 years and older. Seniors can compete in Olympic events and the SilverArts celebration, where they show off their art, literary, or cheerleading skills. The yearly event has grown significantly, with more than 60,000 participants on the local level and 3,200 of those seniors advancing to the state finals.
Betty Allgood, age 80, lives in Winston-Salem at Homestead Hills retirement community. She has actively competed in the local and state senior games since 1992. It all started with her late husband. "My husband liked to run and play basketball. He saw an article in the paper and wanted to check it out," she says.
Not wanting to be left alone while he trained, Allgood accompanied him to the track where she taught herself to race walk. "There's a certain technique. You have to keep one foot on the ground and your leading knee locked until the heel touches the ground," she explains.
Allgood walks every morning either at Hanes Park or around the Homestead Hills community. She says, "If I don't do it first thing, I won't do it." On Wednesday mornings, she teaches Winston-Salem residents how to race walk at Hanes Park.
Allgood's hard work has paid off. She participated in the National Senior Games in July and won the gold medal in the 1500-meters Race Walk event with a time of 10 minutes 58 seconds, but was disqualified in the 5k for bending her knee.
The local and state games are held yearly, while the national games are held biannually. To compete in the National Senior Games, you must medal on the local and state levels. Not only does Allgood win, she does so by setting state records that still stand. She holds records for the 1500-meters Race Walk in the 65-69 (9 minutes 59.2 seconds) and 75-79 (11 minutes 3.67 seconds) female age groups, and for the 5k Race Walk in the 65-69 (35 minutes10 seconds), 75-79 (38 minutes 7.32 seconds), and 80-84 (39 minutes 21.93 seconds) age grades.
This year, Allgood came to NCSG ready to compete. After the devastating disqualification, she was out to prove that she could win. She took home the gold medal in both events, and broke her previous state record for the 80-84 female 1500-meters Race Walk with a time of 11 minutes 19 seconds. Her 5k time was 39 minutes 50 seconds.
The 2013 NCSG are not in a qualifying year for Nationals. This means that Allgood must win at the local level in May and again at the state level to compete in the 2015 National Senior Games in Minneapolis, Minn.
"I'm not about to stop," asserts Allgood. The chief among her reasons for continuing is "It keeps [her] motivated and healthy." She also loves the atmosphere and community elements, "You meet so many nice people."
About Homestead Hills
Homestead Hills is an all-inclusive retirement community located in Winston-Salem, N.C. The community's care-free lifestyle helps members live longer, healthier and happier lives by offering an array of amenities including maintenance-free living, daily fine dining, weekly housekeeping, a nationally recognized wellness program and on-site health services. The gated community offers residents a variety of floor plans including single-family cottage homes and condominium-style villas. Assisted-living and memory-care rooms are available for those who need to make a transition from independent living. The community will also add skilled nursing services in early 2013. More information about Homestead Hills is located at http://www.Homestead-Hills.com.