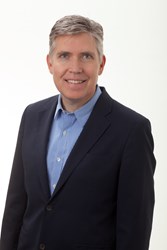 "Mark Roddy's extensive experience and talent for design will take the studio to the next level," said San Francisco Workplace Studio Leader Juhee Cho, IIDA, LEED AP.
San Francisco, Calif. (PRWEB) October 08, 2013
Mark Roddy, AIA, LEED AP, has relocated from SmithGroupJJR's Phoenix, Ariz. office to join the firm's San Francisco, Calif. Workplace Studio as design principal.
A prolific designer throughout his career, Roddy has designed projects that hold more than 30 design awards. His most notable, recent projects include the largest net-zero energy building certified by the Living Future Institute, the Phoenix Regional Office for DPR Construction. He also designed Chandler City Hall, Chandler, Ariz., named the 2012 Project of the Year by ENR Southwest, and selected by the American Institute of Architect's (AIA) Committee on the Environment as a national Top Ten green project.
Roddy recently received AIA Arizona's highest honor, The Arizona Architects Medal, given to members who have advanced the profession of architecture, recognizing outstanding professional achievements and leadership in the design community.
Roddy lends his creative talents to design spaces that respond to the surrounding community and its culture. He believes architecture should be expressive and environmentally responsible, achieving a balance between beauty and function.
"Architecture is so much more than creating great buildings. A really good architect has to know how to balance design and creativity with understanding and communicating with people," Roddy explains.
In his new role as design principal for the San Francisco Workplace Studio, Roddy will provide creative leadership and oversight for the office's building designs for commercial, civic and developer-led projects.
"Mark Roddy's extensive experience and talent for design will take the studio to the next level," said San Francisco Workplace Studio Leader Juhee Cho, IIDA, LEED AP. "With Mark on our team, we're looking forward to expanding our hold on ground-up building design."
Roddy holds a Master of Architecture degree from UCLA focusing on urban studies and a Bachelor of Architecture degree from University of Arizona.
Soon after his arrival in San Francisco, Roddy was part of the winning SmithGroupJJR design team for a 100,000-square-foot, multi-story office building with clinic space and a fitness center in Vacaville, Calif. with NexCore Group, a healthcare real estate developer.
Recently completed workplace projects for the San Francisco Workplace Studio include the new San Francisco headquarters for the American Red Cross and the 240,000-square-foot eBay Customer Service Center in Draper, Utah. Current projects include the Microsoft Mountain View Technology Center and lobby renovations, and office interiors for management consulting firm Bain & Company and LinkShare, an internet marketing company. The studio is also working on the comprehensive renovation of the 395,000-square-foot building that will serve as the new home for the University of the Pacific Dugoni School of Dentistry. Located in San Francisco's South of Market district, the new dental campus is targeted to commence occupancy in mid-2014.
SmithGroupJJR (http://www.smithgroupjjr.com) is ranked as one of the nation's leading design firms by Architect, the magazine of the American Institute of Architects. A leader in sustainable design, SmithGroupJJR has 351 LEED professionals and 89 LEED certified projects.