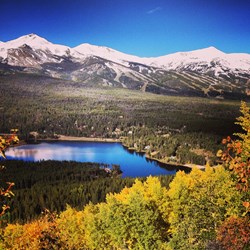 (PRWEB) October 08, 2013
Fall can be great living somewhere like Mexico, Florida or Arizona where the seasons change but the temperature seems to be the only indication. Fall can also be great living in South Dakota, Alaska, or Maine where the leaves still change colors and the temperature fluctuates like Breckenridge. It is possible get a great view somewhere else, but there is no better place to fall in love with Fall than in Breckenridge, Colorado. Shannon Sinnard from Ski Country says she loves Fall in Breckenridge because "so many restaurants offer 2-for-1 specials and we can offer great lodging specials to potential guests." She also continued saying, "you can get views from atop a mountain that take your breath away and leave you speechless."
Local retailers are placing inventory on sale to make room for the Winter gear, the restaurants are trying new menu items to prepare the exquisite dishes for the Winter crowd and lodging companies are offering deals that can't be beat. Take Ski Country Resorts for example; for the entire month of October up to opening Day for ski season they are offering 50% off the last night of the stay when reservations are there two or more nights! Tiana Shelton from Ski Country states, "this special means a guest can already take our low prices at $99/night, plus enjoy that 50% off special. They can stay two nights in Breck for less than $200!" Now if that isn't a reason by itself to LOVE Fall in Breck, here is another.
Local boutique store Hand & Glove is currently offering the newest fall fashions from hip, daily wear gloves to distinctive sweaters, tunics and jackets. Store owner Sheri Shelton says, "our sale rack is loaded with beautiful fashions at 40% off". So, now that the obvious reasons are stated as to why Breckenridge will make you fall in love with Fall, paint this picture in your head of the not so obvious reasons.
Glowing trees radiating yellow, orange and red mixed with the freshest air will entice the senses and force a person to spend time outdoors. Bring the family and go for a hike to reconnect and spend quality time together. Spend a few days with a special someone or good friend to make memories that last a lifetime. Visitors can't ski or ride the alpine slide, but they can still hike, bike, walk, talk, shop and stay in Breckenridge. It is hard to believe there is a more beautiful place than Breck in the heart of Autumn.
The first step to a quick getaway this Fall is to call 800-633-8388 or visit Ski Country Resorts online and book the perfect vacation rental to start a perfect vacation. They will help you with the rest!