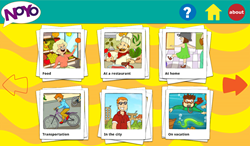 "We created an autistic friendly version of our app after many requests from educators and parents alike," says Mike Sullivan
Boston, MA (PRWEB) October 09, 2013
Noyo, a Boston based educational software company, has created a vocabulary learning platform for the iPad that allows users to quickly learn English vocabulary. Currently being used all over the world, Noyo language apps help users develop a rock solid vocabulary foundation. Autism-Friendly English Flashcards by Noyo is latest app in the iTunes store.
After conversations with educators and parents, Noyo decided to make a version of their vocabulary builder that was more friendly to the needs of people with autism. Autism-Friendly English Flashcards features a redesigned UI in soothing greens, purples, and greys. Additionally, this app has toned down the boisterous color in our illustrations and normalized and lowered app volume for seamless, distraction-free learning. Finally, Noyo has made sure that the app provides a solid foundation in common nouns, including words relating to home, family, and school.
This app is appropriate for language-delayed individuals, people with autism learning English as a second language, or anyone who wants a streamlined, low-distraction version of our vocabulary builder.
"We created an autistic friendly version of our app after many requests from educators and parents alike," says Mike Sullivan, Chief Learning Officer. "We created a platform that allows the user to go through real life scenes interacting with thousands of English vocabulary words in context."
Available on the iPad, Autism Friendly English flashcard app is a targeted vocabulary-building system for language learners on the spectrum. Vocabulary items are integrated into interactive scenes, and each of nearly 2000 vocabulary items is paired with high-quality audio recorded by a native speaker from the United States.
About NOYO
Noyo was created through the combined vision of a beloved Spanish schoolteacher and an innovative mobile software entrepreneur. All Noyo language-learning apps are voiced by native speakers and feature engaging original illustrations. Noyo's interactive platform helps you learn — and remember! — words by linking them to entertaining images, high-quality audio, and built-in assessment units.