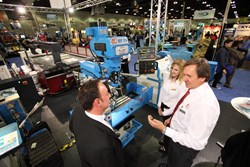 These new exhibitors will help companies reduce manufacturing costs, shorten lead times, and learn more about new applications.
Los Angeles, California (PRWEB) October 03, 2013
As the October event quickly approaches, 68 companies are looking forward to their first time exhibiting at WESTEC, the premier West Coast manufacturing event. This number represents a significant portion of the more than 500 companies exhibiting new innovations and technologies at the event. Produced by SME, WESTEC 2013 takes place at the Los Angeles Convention Center October 15-17, 2013.
"WESTEC 2013 is continuing to grow," said Christine Longroy, WESTEC event manager. "These new exhibitors will help companies reduce manufacturing costs, shorten lead times, and learn more about new applications."
The new exhibitors, ranging from A1 Laser International to Zhejiang Headman Machinery Co., will be exhibiting the latest in manufacturing and tooling technologies. The new presenting companies include established brands, small businesses and divisions of well-known companies such as EMAG, GROB Group, Haas Automation and Hyundai WIA. Other new companies include C&B Machinery, CNC Matters, Fullerton Tool, Laserod, Supertec Machinery, Tru-Form Industries and YMT.
More than 400 companies that have previously showcased at WESTEC will be returning as exhibitors. These include many of the industry's top equipment manufacturers that have, in past years, unveiled technological breakthroughs at WESTEC from software and cutting tools, to 3D printers and multitasking machines. WESTEC 2013 is no different. The show will feature more than 250 new products and technologies.
Returning companies include well-known brands such as: Chevalier, Hexagon Metrology, Hurco, Knuth Machine Tools, Omax, Stratasys and Verisurf.
WESTEC has built a reputation as the West Coast's premier technological showcase for the manufacturing industry. Generations of manufacturers have used WESTEC as a forum to find cutting-edge equipment, explore advanced technologies and learn innovative production methods to help grow their businesses.
"We have seen innovation and technology rapidly transform our industry," said Longroy. "WESTEC provides a truly interactive experience where company leaders have a chance to interact with our industry's evolving technologies and developments."
For more information about exhibitors and to register for WESTEC 2013, visit westeconline.com.
About WESTEC: 
WESTEC, the region's definitive manufacturing event, returns to the Los Angeles Convention Center fall 2013. The three-day event gives you access to the latest technologies, equipment and products from the industry's leading innovators. Products and technology are highlighted through interactive exhibits, education and networking.
About SME: 
SME connects all those who are passionate about making things that improve our world. As a nonprofit organization, SME has served practitioners, companies, educators, government and communities across the manufacturing spectrum for more than 80 years. Through its strategic areas of events, media, membership, training and development, and the SME Education Foundation, SME shares knowledge to advance manufacturing. At SME, we are making the future. Together.