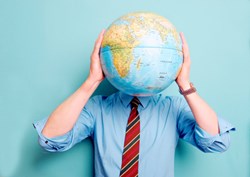 This makes anonymous proxies ideal for accessing web content normally available locally in France.
Dallas, Texas (PRWEB) October 04, 2013
idcloak launches a new list of free proxy servers in France. The French Proxy List allows users anywhere in the world to access the internet via a French IP address, giving them instant access to an internet experience as if physically based in the country.
"The list is compiled from multiple sources, with each public proxy tested for functionality and performance," says idcloak's Robin Welles. "We display the proxies alongside the test results so the user can choose a server by the required proxy type, anonymity level and speed."
A proxy is a remote browser-based portal to the internet which fulfills several useful functions. When using a high or medium anonymity proxy, a user will access sites without revealing his or her true geographical location: the original IP address is replaced by that of the proxy. "This makes anonymous proxies ideal for accessing web content normally available locally in France. As an example, if an internet user in Germany is unable to view a YouTube video because of their German location, they may access that video through a French proxy and bypass the restriction."
The low anonymity proxies in the list are useful for a different but connected function. "When a local area network, say at work or in university, forbids access to a site you need to reach, you may connect to a low-anonymity proxy and ask it to bring up the site for you. It's recommended you use an HTTPS proxy if available so as to evade detection. Users in France can bypass local censorship without connecting to a server far away, which helps with data transfer speeds."
To users unfamiliar with the IP proxy format and use, the list contains a link to an explanatory page with a walk-through for users of different browsers, including Opera Mobile Classic. "IP proxies are great cross-platform tools," says Welles.
idcloak Technologies is also just days away from releasing a software proxy system – the idcloak VPN. This versatile and easy-to-use service connects users to a global privacy network which idcloak maintains in-house. The network will soon include a French VPN connection.