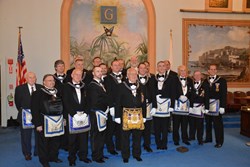 Natick, MA (PRWEB) October 03, 2013
Exactly 50 years to the day he was first installed as the presiding officer of Natick's Meridian Lodge of Freemasons, Albert T. Ames, past Grand Master of Masons in Massachusetts, returned to the position for the ensuing year.
On December 29th, 1986, Ames was installed to serve the Grand Lodge of Massachusetts as its 79th Grand Master of Masons, a position he held until December of 1989. A Grand Master has two distinct responsibilities. First, he serves as the fraternal leader of the society; he has several ceremonial privileges reserved for his position. He also serves as the corporate leader for the business of the Grand Lodge. As Grand Master, Ames presided over more than 70,000 members in over 250 different lodges throughout the commonwealth.
Ames, a lifelong resident of Natick, was educated in Natick's public schools, attended Northeastern University night classes, and worked in home construction and remodeling for fourteen years. In 1971, he established Al Ames Associates, Inc., an automotive repair and service business that operated in Natick for many years.
He began his Masonic career in Natick's Chapter of the Order of DeMolay, a fraternal organization for young men between the ages of 12 and 21. He became a Master Mason on November 12, 1958 in Natick's Meridian Lodge. He first served that lodge as its presiding officer, or Worshipful Master, in 1963-64, having first been installed on September 18th, 1963.
Freemasons trace their roots to the stonemason guilds that built Europe's cathedrals and castles during the early part of the last millennium. As construction of these buildings declined, they began accepting members from outside their trade. These new members, influenced by the "Age of Enlightenment," transformed the organization from a group for builders to one focused on developing the character of its members. Freemasonry was formally organized in London, England in 1717. In 1733 it was formally organized in Massachusetts, making it the oldest Masonic group in the Western Hemisphere and the third oldest in the world.
Freemasonry, the world's oldest and largest fraternity, seeks to bring together men of every country, religion, race, background, and opinion in order to develop the bonds of friendship between them. Through a large variety of North American Masonic philanthropies, approximately $3 million is given to charity every day, 70 percent of which benefits the general public. During its initiation ceremony, which uses symbolism and allegory, its members are encouraged to value high principles, ethics, and morals and to live their lives accordingly. By "making good men better," Freemasonry positively benefits its members, families and communities.
For additional information, please call 800.882.1020, or visit massfreemasonry.org.