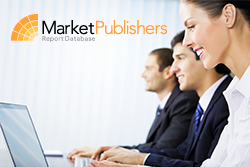 London, UK (PRWEB) October 03, 2013
MarketPublishers.com informs that a new research report on the isoprenol (CAS 763-32-6) market prepared by BAC Reports is available in its catalogue.
The newly published report "Isoprenol (CAS 763-32-6) Market Research Report 2013" grants access to an extensive review of the world isoprenol market. It provides comprehensive profile of isoprenol, including a detailed description, composition, ingredients and hazards of the chemical; toxicological and ecological information; handling, storage and transportation issues. The research study presents an insightful overview of isoprenol's properties, covers the major production methods and scrutinizes applications in detail.
The research study provides true and unbiased insights into the isoprenol market, uncovers detailed profiles of the leading and niche manufacturers and traders participating in the isoprenol market from pole to pole. Moreover, the report contains a snapshot of the key consumers across the main end-use sectors and sheds light on the regional prices for the product.
Report Details:
Title: Isoprenol (CAS 763-32-6) Market Research Report 2013
Published: October, 2013
Price: US$ 2,650.00
http://marketpublishers.com/report/industry/chemicals_petrochemicals/isoprenol_763-32-6_market_research_report.html
The regional markets scrutinized in the research study include: Asia, North America and Europe.
The list of the companies profiled in the report include: Acros Organics B.V.B.A., Merck Schuchardt OHG, Finetech Industry Limited, Jilin Zhongxin Chemical Group, Chemfun Medical Technology, Finetech Industry Limited, Linyi Fude Fine Chemical, 9W Pharmaceutical Technology, Haihang Industry, Jinan Haohua Industry, Hangzhou Sage Chemical, Hangzhou Dayangchem, Kuraray, Tokyo Chemical Industry, Alfa Aesar, SAFC - Sigma Aldrich and Santa Cruz Biotechnology.
Reasons to Buy:

The report enhances knowledge of isoprenol significantly by providing a comprehensive product profile.
In-depth analysis of the isoprenol market helps to get a perfect understanding of the actual market condition.
Review of the regional prices enables to determine the most promising geographical markets.
Detailed overviews of the various market players along with top company profiles equip with information which is helpful in evaluating the competitive pressure and choosing prospective business partners.
In-depth understanding of the isoprenol market provides an opportunity to elaborate effective strategies and make accurate business decisions.
More CAS chemicals reports by the publisher can be found at BAC Reports page.