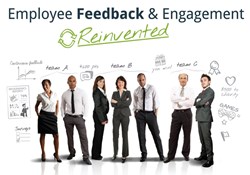 Montreal, Quebec (PRWEB) October 04, 2013
The only way to keep top notch talent is with a top notch environment.
That's why Herd Wisdom reinvented employee feedback and engagement.
Why did they reinvent employee feedback? Because the old system of long annual employee surveys is counterproductive. By the time the yearly findings are analyzed, problems have become magnified. Unhappy employees have left, and minor system challenges have now become major issues.
What does Herd Feedback do? It's a system which gives HR the continuous-motivated-feedback it needs to be effective. It replaces the yearly questionnaire with a weekly list of 5 simple weekly questions which takes precious little time to answer. Employees are rewarded for their weekly responses by entering a fun-filled world of games, prizes and friendly competition. They can even join inter-company teams. If they wish their prizes can be turned into charity donations. Now employees are engaged as there is more "in it" for them, and HR becomes more relevant.
How does everyone benefit? As an overview…HR benefits as it becomes far more relevant to the weekly work life of employees. HR now has the information it needs, on an ongoing basis, to do its job effectively. Employees become an active part of the improvement process. Their feedback becomes more relevant because it will be acted on in quick fashion. Moreover, they are engaged with fellow employees throughout the company in friendly competition. This can only lift morale.
Some other great features:

Provides "people" analytics to help HR keep up with their new role
Automated alerts monitoring to deliver the info you need instead of having to pull it from the system
Infographic reports so data is easy to understand and can be curated and shared
Now the company benefits in two ways, efficiency equals bottom line dollars, and valued talent is retained. HR receives continuous timely employee feedback on a weekly basis and knows of dissatisfaction before talent leaves.
Herd Wisdom – Reinvented employee feedback and engagement with a revolutionary new system, Herd Feedback, which incorporates a weekly cycle of continuous-motivated-feedback. By motivated we mean employees are rewarded by entering a fun-filled world of games, competition, rewards and charitable giving. The result… a closer interaction between HR, management & employees. The key benefit… HR receives the timely actionable information it needs.
"The HR Technology® Conference is the annual town meeting of our community, and the world's largest gathering of people that care about HR technology or need to learn more," says Co-Chair Steve Boese. "With just about every HR practitioner, vendor, consultant, analyst, industry influencer and blogger who cares about HR technology attending, our industry understands and appreciates that everyone they need to meet is here."
For more information or to schedule an interview, contact:
Melissa Dawn Photiades
VP Marketing
mdawn(at)herdwisdom(dot)com
514-939-0804 #104