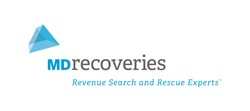 San Diego, CA (PRWEB) October 05, 2013
On September 5, 2013, MD Recoveries, Inc., et al and Golden Hour Data Systems, Inc. et al, entered into a confidential settlement agreement and mutual release of all claims against each other.
"The case has settled to our satisfaction," stated Michael Walterscheid, CEO and President of MDrecoveries. "It is good to have this matter behind us, allowing us to continue our focus on our Extended Business Office and Revenue Cycle Management Services."
About MDrecoveries:
MDrecoveries is the complete solution for Extended Business Office ("EBO") and revenue cycle management services for EMS air and ground ambulance services for hospitals and independent providers. All work is grounded in expertise, accountability and measurement. MDrecoveries is dedicated to helping ambulance EMS healthcare providers across America better manage revenue to insure a healthy top and bottom line.
For more information visit http://www.mdrecoveries.com or call 619-933-7121.