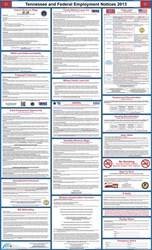 The state of Tennessee is committed to providing its citizens with maximum opportunities for employment.
(PRWEB) October 04, 2013
State and Federal Poster, Inc. is proud to offer the latest updates to the complete Tennessee State and Federal Labor Law Poster, including the most recent updates of 2013.
The latest June 2013 update includes revisions to the Tennessee unemployment policies include the newest implementation of the loss of benefits is recipients fail to complete three weekly job searches. In addition, to the new mandatory job searches recipients must also complete updated record for tracking their searches. This law is officially in effect starting September 2013.
Don't let the HR department fall behind on the latest updates in regards to Tennessee's updated labor law posters, get your 2014 poster today!