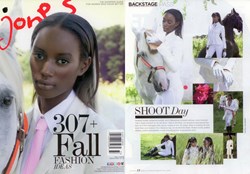 New York, NY (PRWEB) October 06, 2013
Stylist Donald Lawrence takes us on an ethereal equestrian ride in his "Easy Rider" editorial for Jones Magazine Fall 2013 Fashion Issue. Robin's Jean sleek white leggings are featured in the beautiful nine page story on one of the two models. The images portray beautiful models with manes of black and white hair in fall looks of pristine whites and black leather riding boots. They are complimented by beautiful black and white horses which quietly steal the show. The images were shot by photographer Dimitri Hyacinthe at the Baiting Hollow Farm Vineyard.
The second Robin's Jean editorial in the publication, "Layer Cake", was photographed by Jonathan Bookallil and features the Skin Jean in white and a brown shearling hooded vest. Also styled by the talented Donald Lawrence, two models show how to layer the season's top designer ensembles. Robin's Jean Fall 2013 collection is now available in stores and on the website at http://www.robinsjean.com Jones Magazine Fall Fashion issue is on newsstands from September to December 2013.
Robin's Jean features a unique collection of jeans, jackets, tops, hats and belts for men and women designed by Robin Chretien. Represented by the gold wings logo, Robin's Jean captures Robin's childhood dream of freedom and flight. Robin arrived in Los Angeles in 1996 and by 2005, he decided to incorporate his passions for designing clothes, riding motorcycles and vintage cars with his fascination of Native American Indians and the spirit that embodied warriors and their fight for freedom to create his own line, Robin's Jean.
Robin's Jean is Made in the USA and there are currently four Robin's Jean Flagship Stores in Beverly Hills, CA; Soho, New York; Laguna Beach, CA; and Ibiza, Spain.