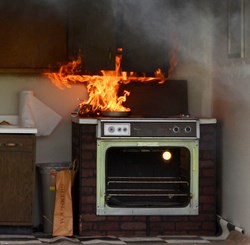 The most common cause of kitchen fires that we see is people leaving their cooking, frying, baking, etc., unattended. It's easy to get distracted while cooking, but that's when trouble starts. - Alan Clark
Grinnell, IA (PRWEB) October 04, 2013
Whether you are baking a tasty treat or cooking the evening meal, a little caution can prevent cooking fires, advocates Grinnell Mutual Assistant Vice President of Special Investigations Alan Clark. The National Fire Protection Association (NFPA) reports that more house fires start in the kitchen than any other room in the house. Learn how to prevent kitchen fires during Fire Prevention Week October 6-12. Watch how quickly cooking fires escalate in Grinnell Mutual's burn cell demonstration video.
Stay alert while cooking
"The most common cause of kitchen fires that we see is people leaving their cooking, frying, baking, etc., unattended," said Clark. "It's easy to get distracted while cooking, but that's when trouble starts."
Placing combustibles, such as paper products or food items, too close to a heat source is also a common cause of fires. Last year, combustibles too close to a heat source accounted for nearly a third of the fires investigated by Grinnell Mutual.
The cost of kitchen fires is high. From 2007 to 2011, U.S. fire departments responded to an estimated average of 156,600 cooking-related fires per year. As a result of these fires, 400 civilians died and 5,080 civilians were injured annually. In addition, the fires caused $853 million in direct damages. (Figures as reported by the NFPA.)
"Carelessness leads to a lot of fires. The best tip we can give is to pay attention, especially when you're cooking," said Clark.
Responding to a kitchen fire
If a fire does occur in the kitchen, be ready to respond with these tips from the United States Fire Administration:

When in doubt, just get out. When you leave, close the door behind you to help contain the fire. Call 9-1-1 or the local emergency number after you leave.
If you do try to fight the fire, be sure others are already getting out and you have a clear path to the exit.
Always keep an oven mitt and a lid nearby when you are cooking. If a small grease fire starts in a pan, smother the flames by carefully sliding the lid over the pan (make sure you are wearing the oven mitt). Turn off the burner. Do not move the pan. To keep the fire from restarting, leave the lid on until the pan is completely cool.
In case of an oven fire, turn off the heat and keep the door closed to prevent flames from burning you or your clothing.
If you have a fire in your microwave oven, turn it off immediately and keep the door closed. Never open the door until the fire is completely out. Unplug the appliance if you can safely reach the outlet.
After a fire, both ovens and microwaves should be checked and/or serviced before being used again.
Fire Prevention Week is also a good time to test and replace batteries in smoke alarms and carbon monoxide detectors, practice a home escape plan, and inspect and clean chimneys prior to heating season.
About Grinnell Mutual
Grinnell Mutual Reinsurance Company, in business since 1909, provides reinsurance for farm mutual insurance companies and property and casualty insurance products through more than 1,600 independent agents in 11 Midwestern states. Grinnell Mutual is the 123rd largest property-casualty insurance company in the United States and the largest primary reinsurer of farm mutual companies in North America.