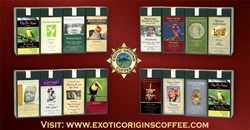 Exotic Origins Coffees are crafted like fine wines and offer a deeper experience.
Miami, Florida (PRWEB) October 05, 2013
The Biscayne Bay campus of Hospitality and Tourism Management hosted Exotic Origins Coffee visit to explore unique ways of enriching the learning experience. Chef Mark D. D'Alessandro's M.A. advanced lab class and other professors enjoyed an exclusive tasting of Buna Hawisa Ceremonial Select from Ethiopia, the birthplace of coffee. A South Florida favorite; Mama Cata 89 point rated Reserve Espresso from Panama was also served.
Exotic Origins Coffee was first introduced to FIU at the SOBEWFF 2013 Tribute dinner for Chef Nobu hosted by Martha Stewart. "Dean Mike Hampton is committed to incubating innovation through applied research in order to provide global solutions. Together we agree there is much work to be done in the foodservice industry with coffee education and service," explains Scott Plail, Founder & CEO. Willem Boot, International Coffee Expert and Director Global Procurement adds, "We are currently in development of educational curriculum for sustainability practices and technologies which can significantly impact our global coffee economy."
FIU's Hospitality Management program is one of the top schools in the United States with international recognition. Fang Shu, Coordinator of FIU's China Hospitality Programs helped organize the meetings which took place over two days. FIU and Exotic Origins Coffee are in alignment with their mutual interest towards promoting high quality coffee education both at home and in new emerging coffee drinking nations.