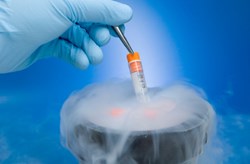 If you don't have a baby, receive a full refund - it's that simple.
Rockville, MD (PRWEB) October 04, 2013
Shady Grove Fertility is expanding their signature financial service, the Shared Risk Program, to now include Frozen Embryo Transfers (FET). Shady Grove Fertility has several financial programs to help reduce the cost of FET cycles; however, now that SGF has launched the Shared Risk 100% Refund Guarantee for FETs, patients gain the same piece of mind that thousands have had with the traditional Shared Risk 100% Refund for IVF or Donor Egg Program – a baby born or a 100% refund.
Patients with remaining embryos from a previous treatment cycle that meet the eligibility criteria now have the option to guarantee their success with subsequent FET cycles. These are patients with remaining high-quality blastocyst stage embryos from a fresh IVF cycle that can be frozen for later use.
With Shady Grove Fertility's new Shared Risk Program for FET there is no limit to the number of cycles that can be used. The program is solely based on the number of remaining high quality embryos exist.
To learn more about the Shared Risk Program go to: http://www.shadygrovefertility.com/shared_risk.
To learn more about FET go to: http://blog.shadygrovefertility.com/2013/09/24/5-things-frozen-embryo-transfer/.
###
About Shady Grove Fertility: Shady Grove Fertility is America's largest and most progressive fertility center performing over 6,000 IVF cycles, including over 1,000 egg donation cycles, and an equal number of ovulation induction and IUI cycles annually. Twenty-nine reproductive endocrinologists as well as PhD scientists, geneticists and 480 highly specialized staff care for patients in 17 full-service offices and 4 satellite locations throughout the Philadelphia, Baltimore, and Washington, DC metropolitan areas. SGF offers a comprehensive range of fertility treatment options including Ovulation Induction, IUI, IVF, and Donor Egg as well as resources to comprehensively address patients' needs - medical, emotional, and financial. For patient convenience IVF retrievals and transfers are now performed at three regional IVF Centers in Rockville, MD, Baltimore, MD and Chesterbrook, PA.