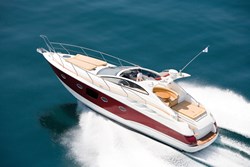 FT. LAUDERDALE, FLA. (PRWEB) October 04, 2013
Atlass Insurance Group, a worldwide provider of commercial and marine insurance for more than 30 years, has enhanced its 16-month-old Prime Time™ Boat Insurance product, available through Atlass and other independent insurance agents nationwide.
Since Prime Time's launch last year the product has garnered much market attention. The main enhancement: liability is now a million dollars, with no sub-limits as in the past. After the liability limits were increased, an additional 50 boats/month over the past four months have been added to the program.
"There is a significant need for a customized boat insurance product designed for the high performance and special risks market," said company founder and CEO, Frank Atlass. "Getting feedback from clients on the policy has proved to be very beneficial, allowing us to tailor Prime Time to fill the void in the market."
Prime Time's affordable marine insurance is for any owner operated boats valued from $50,000 to $2 million. Here's what is unique. Prime Time insures high performance speed and fishing boats in need of full coverage, including center consoles with triple or quad outboards and high performance boats with maximum speeds up to 138 MPH. The company also insures special risks such as older boats, absentee owners and those with extended navigation needs (Central and South America, Mexico, Virgin Islands, Eastern Europe) and owners with prior claims.
Boat owners and insurance agents can contact Atlass Special Risks Division at info(at)atlass insurance(dot)com for more information on Atlass and Prime Time, or can contact Laura Sherrod at 954-653-2852.
# # #
Established in 1981, the Atlass Insurance Group (http://www.atlassinsurance.com) consists of a talented group of insurance brokers and risk managers, offering both wholesale and retail insurance products. The company focuses on the following markets: yachts and marine, commercial marine, maritime, marinas and charter, property, auto, collections, and business/commercial lines. Headquartered in Ft. Lauderdale, the company also has offices in Cocoa Beach and Newport, RI. For more information, contact (954) 525-0582.