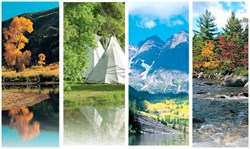 Native CDFIs are playing a growing role in providing financial services and low interest loans to tribes to purchase land, drive economic development, and promote tribal sovereignty.
ROSCOE, MT (PRWEB) October 03, 2013
For the third year in a row, ILCC, an American Indian owned and managed Native Community Development Financial Institution (Native CDFI) and leader in the tribal land financing and acquisition movement, has received the highest tier financial award ($750,000) from the Treasury Department's CDFI Fund.
The CDFI Fund recently announced awards totaling nearly $12.4 million for Native CDFIs. 65 organizations had submitted applications during this round of funding with 35 groups eventually receiving awards. The CDFI Fund's Native American CDFI Assistance (NACA) program provides technical and financial assistance to Native American tribes, tribal entities and other CDFIs serving Native American, Alaska Native and Native Hawaiian communities.
"To be recognized again as a leader in the rapidly expanding Native CDFI movement is a great honor," said Gerald Sherman who was recently elected Vice President of the newly formed Native CDFI Network. "Native CDFIs are playing a growing role in providing financial services and low interest loans to tribes to purchase land, drive economic development, and promote tribal sovereignty," added Sherman (Oglala Lakota).
Sherman, ILCC's President and CEO, is a former banker and recognized pioneer in the CDFI industry and is credited with starting the first Native CDFI in the country -- the Lakota Fund, a well-known CDFI and one of the first microfinance funds in the United States.
In 2005, Sherman established ILCC as a collaborative effort between the Indian Land Tenure Foundation (ILTF) of Little Canada, MN and the Native American Community Development Corporation (NACDC) of Browning, MT, to bridge the gap in lending to tribes and to facilitate the acquisition of Indian lands for social, cultural, and economic purposes. Working with the Indian land and economic pioneers Cris Stainbrook (Oglala Lakota) and the late Elouise Cobell (Blackfeet) as founding directors, Sherman has positioned ILCC at the forefront of a Native American movement to reclaim land using Native resources.
ILCC has made over $7 million in loans to Indian nations and entities to date, and has assisted in the recovery of nearly 30,000 acres of tribal land in Washington State, Montana, Minnesota, South Dakota, California, and has approved a loan in Michigan. Projects made possible through ILCC financing have included expansion of a health care facility, construction of homes for tribal members, sustainable forest management, wetland restoration, agriculture/ranching, and protection of sacred and cultural sites among others.
In early 2013, ILCC provided $900,000 in bridge financing to help the tribes of the Oceti Sakowin (Great Sioux Nation) secure the property to allow them time to raise $9 million to repurchase and once again retain full ownership and control of the sacred site Pe' Sla located in the Black Hills.
"ILCC lends on the full faith and credit of the tribe, at lower than market rate and without tying up tribal land as collateral – all of which accelerates the fee to trust process," explains Sherman.
ILCC's revolving loan funds also provide an excellent investment vehicle for tribes with additional resources that want to help other tribes while receiving a reasonable investment return. To date, ILCC has raised $7.5 million in funds from socially-conscious investment sources including the Indian Land Tenure Foundation (ILTF), Ford Foundation, CDFI Fund, Wells Fargo Bank, Otto Bremer Foundation, First Nations Oweesta Corporation, Bank of America, and individual (gaming) tribes, and others.
ILCC will continue to reach out to both potential borrower and lender tribes in the upcoming RES Arizona conference, October 22-24 Wildhorse Pass Hotel and Casino in Chandler, AZ.
# # #
About ILCC and its Founding Partners
ILCC is a certified Native CDFI (April 2011 designation) providing alternative loan options to Indian nations for tribal land acquisition. ILCC grew out of an identified need in Indian Country for financial mechanisms that offered full faith and credit lending options for tribal land purchases. Unlike traditional lending institutions, ILCC responds directly to the unique financial needs of Indian nations, and as a Native-run business, ILCC understands and supports tribal sovereignty and recognizes the importance of land to Indian people. Learn more at http://www.ilcc.net. As partners of ILCC, ILTF and NACDC provide technical support and grants to tribes for the development of strategic land acquisition plans. ILTF is a national, community-based organization focused on American Indian land recovery and management. It works to promote education, increase cultural awareness, create economic opportunity, and reform the legal and administrative systems that prevent Indian people from owning and controlling reservation lands. NACDC is the nonprofit affiliate of the Native American Bank. NACDC's mission is to remove the barriers that exist in Indian Country that prohibit the flow of capital and credit. NACDC addresses critical needs in Native communities related to growth of family assets and sustainable economic development. NACDC provides financing, technical support and training to Native communities and tribal members for housing, economic development and land recovery. Learn more at http://www.iltf.org and http://www.nacdc.org .
ILCC - The Leader in Tribal Financing for Indian Land Recovery and Economic Development.