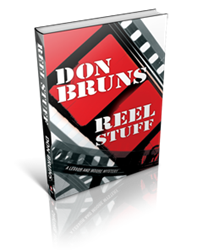 Be prepared for some laugh-out-loud moments. — Publishers Weekly
Longboat Key, Florida (PRWEB) October 04, 2013
Oceanview Publishing will release Reel Stuff by Don Bruns in hardcover (ISBN: 978-1-60809-096-9, Thriller, List Retail $26.95) and all digital/e-Book formats (ISBN: 978-1-60809-097-6, List Retail $14.95) on December 3, 2013.
Reel Stuff is the seventh book in Don Bruns' "Stuff" series, following Hot Stuff, Too Much Stuff, Don't Sweat the Small Stuff, Stuff to Spy for, Stuff Dreams are Made of, and Stuff to Die for.
Reviews of the series offer the following:
"Shake The Big Lebowski up with The Treasure of the Sierra Madre, and Too Much Stuff is what will come screaming out."
—Les Standiford, author of Desperate Sons
"A fun-filled farce with fast-paced plotting, witty dialogue, and likeable, wacky characters."
—Mystery Scene Magazine
"Be prepared for some laugh-out-loud moments."
—Publishers Weekly
"Will remind the reader of Tim Dorsey's cast of whacked-out characters but with the narrative voice of Mark Twain's Huck Finn."
—Booklist (Starred Review)
"This quirkily engaging mystery is a buddy novel as funny as the movie Dumb and Dumber."
—Library Journal
Oceanview Publishing provided the following synopsis of Reel Stuff:
TV filming turns to reality show when actor leaps to his death...
"Is it suicide or murder when Academy Award-winning actor Jason Londell leaps to his death during the filming of a TV show in Miami? Londell's actress girlfriend hires private investigators James Lessor and Skip Moore to investigate. They uncover a plot loaded with twists and fueled by money and greed.
The case sends James, Skip, and Skip's girlfriend, Emily to Los Angeles where the blonde beauty goes undercover in Hollywood and is 'discovered' by a talent agent. The normally levelheaded Emily gets carried away by the dream of a career in pictures, but true to the cause of the case, she works with the guys to bring down the killer.
Caught up in the world of movies, actors, actresses, and Hollywood, the trio finds that it really is the land of make believe—but murder is still the real thing."
Reel Stuff will be available nationwide through all better booksellers and public libraries. All of Don Brun's titles are distributed through Midpoint Trade Books, Baker & Taylor, Ingram, Bookazine, OverDrive, and other major literary distributors.