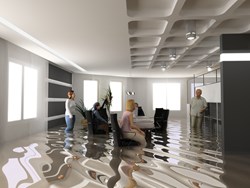 It's times like these that we really need to roll up our sleeves and go to work.
Denver, CO (PRWEB) October 03, 2013
In the wake of historic flooding in Colorado, the Transition Specialists at Ellipse Group have developed a three-stage process to help businesses mobilize an action plan. The massive flooding, in addition to displacing thousands of residents, has critically affected businesses throughout the region, leaving them scrambling to salvage furniture, equipment and workspace.
"Our hearts go out to all the people and businesses who have been affected," said Lynne Sheridan, Ellipse Group Principal. "It's times like these that we really need to roll up our sleeves and go to work." That has meant mobilizing immediate resources and logistical support for their clients in healthcare, higher education and the built environment. "In the event of flooding or other unforeseen event, a temporary work-around is critical to maintaining productivity," said Design Director Rebecca Tanner, LEED AP. "But it always begs the question: what's our long-term solution?"
To that end, Ellipse Group has developed the following sequence of steps to help companies find a path forward when catastrophe strikes:
1. Assess the Situation

Survey the flooded areas and gauge the extent of damage.
Determine the most critical office components for day-to-day operations.
Prioritize short-term needs, such as computer connectivity, telecommunications, data
security, conference areas and workspace.
2. Implement Short-Term Solutions

Enact an immediate operations plan. Alternatives include telecommuting, a temporary
office suite, or an adjacent shell space with Wi-Fi access.

Perform triage to rehabilitate existing furniture and equipment through clean-up and repair,
or expedite quick-ship or pre-owned solutions.
3. Develop a Long-Term Strategy

Take the opportunity to start afresh, revisiting the current design footprint to maximize real
estate and efficiency for future operations.

Consult a certified Transition Specialist to select finishes and construction materials,
manage construction and install built-ins, furnishings, servers, T1 lines and telephones.
These steps reflect Ellipse Group's approach for clients from SMBs to national corporations on preparedness and crisis management. "We understand the corporate culture," said Senior Project Manager Lacy Romunno, LEED AP. "We're able to interface seamlessly between management and their IT staff, employees and customers." Many such volatile situations involve clean-up, hazmat, and decontamination operations, along with other more common design and relocation services, which the firm provides for such clients as the State of Colorado: "It was because of their assistance," said Donetta Davidson, former Secretary of State, "…that a well-constructed and designed office has been provided for my staff and the citizens of Colorado."
It's a sentiment echoed by their clients in the architecture, engineering and construction (A/E/C) sector: "With Ellipse Group's customer service, organization, and coordination," said Sonia Riggs, former Executive Director of the American Institute of Architects (AIA) Colorado. "I knew I had an advocate all the way through the process."
About Ellipse Group
Founded in 2000, Ellipse Group provides a broad range of interior-design services, including space planning, feasibility studies, furniture and equipment coordination, and relocation planning. The Denver-based firm works with clients such as Xcel Energy, Kaiser Permanente, Antero Resources, and McGraw-Hill, to provide best-of-breed design solutions that meet clients' current and future needs. For more information, please visit: http://www.ellipsegrp.com.
--
Media Contact:
David Scott
CONTENT Public Relations
http://www.ContentUniversal.com
david(at)ContentUniversal(dot)com
720.371.9164
###