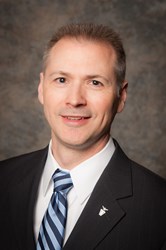 "We have shown time and again that the Air Force can both accomplish its mission to fly, fight and win AND save energy and operating costs." – Dr. Kevin Geiss, U.S. Air Force Deputy Assistant Secretary for Energy
Maxwell Air Force Base, AL (PRWEB) October 03, 2013
First Lt. Kevin T. Geiss, commander of the Civil Air Patrol National Capital Wing's Mount Vernon Composite Squadron, is one of nine recipients of the 12th annual Samuel J. Heyman Service to America Medal (Sammies), presented annually to public servants whose achievements have improved the lives of countless Americans and others around the world.
Geiss, who is deputy assistant secretary for energy, Department of the Air Force in Washington, D.C., will be presented the Management Excellence Medal at a gala event this evening for his leadership in championing the safe use of alternative fuels to ensure energy independence for combat and support missions around the globe. His work reduced U.S. Air Force fuel and energy consumption, saving more than $1 billion in 2012 alone.
Other Service to America Medals will go to federal workers whose achievements range from eradicating polio in India to landing an exploratory vehicle on Mars.
The Air Force is the largest single consumer of energy in the federal government, spending more than $9 billion on fuel and electricity in fiscal 2012. The energy bill constituted more than 8 percent of the Air Force budget last year.
Under Geiss' leadership, the Air Force has been recognized as the Pentagon's top green energy user, purchasing 5.5 percent of its total energy usage from renewable sources.
"No single individual has had more influence and impact in improving the Air Force's energy posture than Kevin Geiss," said Kathleen Ferguson, the Air Force's acting assistant secretary for installations, environment and logistics. "He has helped make the Air Force more energy secure and energy independent, and better able to deal with the constantly rising price of fuel."
Although energy prices keep rising and costs have increased, the initiatives instituted by Geiss surpassed the Air Force goal of lowering fuel consumption by 10 percent by 2015, achieving a 12 percent reduction in 2012—almost $1.2 billion in avoided costs—compared to 2006. His efforts also led to lowered energy consumption at Air Force facilities in 2012, avoiding $300 million in utility costs compared to 2003.
"Kevin has the big picture in mind," said Ben Steinberg of the White House Council on Environmental Quality. "He has gotten the Air Force to begin thinking about the importance of energy to its operations and how by maximizing energy use, it can better accomplish its mission at lower cost."
Geiss said it is imperative that the Air Force saves money and energy while accomplishing its national security mission.
"Energy is part of everything we do at the Air Force," said Geiss. "There is also a great cost to it, whether it's delivering fuel in theater or using it for training. But a dollar saved on fuel can be spent on other important needs."
Prior to his current position developing and overseeing policy and strategy to address the $9 billion energy bill for the Air Force, Geiss' public service career has included roles as a research scientist, policy analyst, program director and executive. He also worked at the White House Office of Science and Technology Policy, overseeing the Department of Defense's $13 billion science and technology portfolio, and moved to the Army where he focused on energy conservation before returning to the Air Force in 2010.
Geiss said he has faced many challenges in meeting and exceeding the Air Force's energy goals, including trying to do long-term planning with a budget process that is short-term in nature, and dealing with a culture in which airmen assume there will always be plenty of fuel regardless of the cost.
"We were able to institute an awareness of energy usage and cost, and now pilots are some of our greatest champions because they understand the importance of energy to what they do," said Geiss. "We need the individual to engage on these issues in order to be successful, and our goal is to give them the tools and the knowledge to be able to do that."
Geiss, who was named the National Capital Wing's Public Affairs Officer of the Year in 2012, worked as a CAP liaison in the District of Columbia Homeland Security & Emergency Management Agency for Hurricane Sandy and the 2013 Presidential inauguration. He has participated in six CAP homeland security missions supporting air defense exercises in the national capitol region.
The Washington Post featured Geiss' award in an Oct. 2 feature story by Robert McCartney, and he will appear tonight on PBS' NewsHour with Judy Woodruff.
"CAP is a tremendous resource for our nation," he said. "I come from a heritage of first responders. … helping my community is in my blood."
Civil Air Patrol, the official auxiliary of the U.S. Air Force, is a nonprofit organization with nearly 61,000 members nationwide, operating a fleet of 550 aircraft. CAP, in its Air Force auxiliary role, performs 90 percent of continental U.S. inland search and rescue missions as tasked by the Air Force Rescue Coordination Center and is credited by the AFRCC with saving an average of 80 lives annually. Its unpaid professionals also perform homeland security, disaster relief and drug interdiction missions at the request of federal, state and local agencies. The members play a leading role in aerospace education and serve as mentors to more than 26,000 young people currently participating in the CAP cadet programs. CAP received the World Peace Prize in 2011 and has been performing missions for America for 72 years. CAP also participates in Wreaths Across America, an initiative to remember, honor and teach about the sacrifices of U.S. military veterans. Visit http://www.gocivilairpatrol.com or http://www.capvolunteernow.com for more information.
Contact info: Julie DeBardelaben – jdebardelaben(at)capnhq(dot)gov – 334-953-7748, ext. 250
Steve Cox – scox(at)capnhq(dot)gov – 334-953-7748, ext. 251