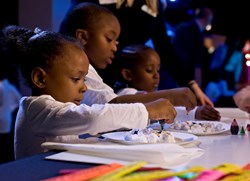 We are helping children build a foundation for a successful future.
Charlotte, NC (PRWEB) October 22, 2013
Photo Op: Special announcement, Wednesday, Oct. 30, 10:30 a.m. to 11:00 a.m. at ImaginOn: The Joe and Joan Martin Center (300 E. 7th Street, Charlotte, NC) to include Library Ceo Lee Keesler and Weston Andress, PNC Regional President, Western Carolina. Additional speakers and fun activities with young children.
Many of us are aware of the positive effects that early exposure to books and reading can bring to children well into adulthood, but did you know that teaching them about money as early as three-years-old can have a similar impact?
Research shows that children who grasp the concepts of saving, sharing and responsible spending at an early age are more likely to become productive citizens with a more stable economic foundation than those who do not.
Thanks to a $200,000 grant from the PNC Foundation, Charlotte Mecklenburg Library will be able to touch the lives of some 30,000 children and their parents to teach early financial literacy through lessons from For Me, for You, for Later: First Steps to Spending, Sharing, & Saving™, a multimedia, bilingual financial education activity kit that Sesame Workshop, the nonprofit organization behind Sesame Street™, created for PNC as part of a continuing partnership in early education.
"PNC is honored to be working with the Charlotte Mecklenburg Library system to help our youngest citizens learn these important financial concepts," said Weston Andress, PNC Regional President of Western Carolina. "Understanding these concepts helps children build a foundation for a successful future."
The initiative goes into full swing later this month and will build on several successful early literacy library programs already in place such as the popular "Wee Read" component of Summer Reading and monthly educational storytime programs, both in library branches and through community outreach. These early learning opportunities will be enhanced with PNC's support and new financial literacy materials.
Library CEO Lee Keesler looks forward for the opportunity to collaborate with PNC. "PNC's focus on early childhood investment and "growing up great" makes them a natural partner for the Library's early childhood learning programs. Both organizations are committed to helping kids in our community get ready to learn and read by kindergarten," said Keesler. "We are very grateful for PNC's support and the opportunity to work together to develop financial literacy in our youngest learners."
Not only will the programs and materials help youngsters, but many of the educational resources will include new programs such as those designed to assist parents and caregivers who may lack the tools and resources to do so.
Children's Services Coordinator Emily Nanney will direct the grant activities which are intended to reach both those who frequent the library and community members who may experience barriers to library access.
About PNC
The PNC Foundation, which receives its principal funding from The PNC Financial Services Group, actively supports organizations that provide services for the benefit of communities in which it has a significant presence. The foundation focuses its philanthropic mission on early childhood education and community and economic development, which includes the arts and culture. Through Grow Up Great, its signature cause that began in 2004, PNC has created a $350 million, multi-year initiative to help prepare children from birth to age five for success in school and life. For more information, please visit http://www.pncgrowupgreat.com, http://www.facebook.com/pncgrowupgreat and http://www.youtube.com/PNC or follow @PNCGrowUpGreat on Twitter.
About Charlotte Mecklenburg Library
Charlotte Mecklenburg Library began more than a century ago as a treasured repository of knowledge. As the community has evolved to read, explore and acquire knowledge in many new ways since then, one important feature has endured: Our services remain free to all who come to us with a desire to research, learn and experience. For more information about Charlotte Mecklenburg Library, visit http://www.cmlibrary.org