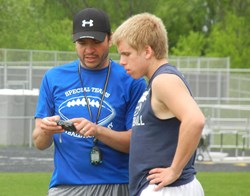 I am looking forward working with these young kicking specialists and helping them reach their kicking goals. - Chris Husby
San Diego, CA (PRWEB) October 05, 2013
Special Teams Football Academy will host a National Camp Series (NCS) Divisional Kicking Camp, for high school kickers, punters and snappers, in Minneapolis, MN, on October 13, 2013, according to Camp Director Chris Husby.
"I am looking forward working with these young kicking specialists and helping them reach their kicking goals," says Husby. "Minneapolis has the potential to be a 'hot bed' of kicking talent for college coaches to recruit from."
Go here for more information about Special Teams Football Academy's NCS Divisional Kicking Camp in Minneapolis, MN, on October 13, 2013.
Husby, who is the owner and head instructor of Special Teams Football Academy, started kicking at the age of 12 and worked his way to punting in college and as an NFL Free Agent, something he has been perfecting ever since.
In 2012, Husby was named Head Kicking Coach for the National Camp Series All-Midwest Regional and Tournament Team. He was also one of the "featured coaches" at the NCS "Super Kicking Camp VI. In addition, he was also "Nike Coach of the Year" Clinic Speaker on "The Kicking Game."
Kicking coach Michael Husted, who created the National Camp Series (NCS) after kicking in the NFL for 9 years, says having kicking coaches like Chris Husby attest to the quality of coaches at NCS events.
"NCS Associates are some of the best kicking coaches in the country," says Husted. "NCS coaches provide the highest quality instruction to high school kicking specialists around the country."
"Chris Husby is an excellent kicking coach," says Husted. "He helped me with the NCS Super Camp in Florida earlier this year. I'm looking forward to working with him on all his NCS Divisional Kicking Camps in 2013."
"2012 shaped up to be the best year yet for the National Camp Series," says Husted. "We introduced our Kicking IndeX (KIX) Player Rating System and are positioned extremely well in 2013 to leverage analytics to showcase our athletes, and provide objective high school kicking specialists' statistics, to college and university coaches."
Husted says that by utilizing its Kicking IndeX (KIX) Player Rating System, NCS provides an objective evaluation platform for student-athletes who want to showcase their capabilities to colleges and universities for recruiting purposes.
By sorting through over six years of historical event data, Husted says the KIX system determines a kicker's rankings by cross-referencing player data to determine how the athletes stack up against others, both presently and historically.
"The NCS levels the playing field for those who don't want to get caught up in all of the 'politics' that occurs in the kicking industry," says Husted. "If you can kick, punt or snap, the NCS KIX system will let a young kicking specialist's skills speak for themselves. No excuses. No explanations."
Go here for more information about the National Camp Series and the dates and location of upcoming NCS events.
Go here for the NCS Kicking Coach Directory.