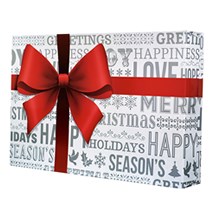 When we see received this new and interesting product- we knew it was a winner about the Gift Wrap Sleeves say Julie Mitchell, merchandiser
Des Plaines, IL (PRWEB) October 05, 2013
The holidays seem to be getting earlier and earlier, and retailers are now preparing stores in July just to keep up with the big box stores. Specialty Store Services, a retail store fixture and supply distributor based in Chicago IL, knows that October, November and December are very busy for retailers. With the holiday season starting the day before Thanksgiving, is hard for a retailer to fully estimate what is needed during this time. Specialty Store Services offers same day shipping at no additional charge if the order is placed before 1:00 in the afternoon Central Time. Specialty Store Services has a warehouse fully stocked with Holiday Bags, Tissue Paper, Gift Boxes and Gift Certificates that are ready to be shipped.
Specialty Store Services is constantly looking for new and interesting products and when this item came to us "we knew it was a winner" says Julie Mitchell,Merchandiser. Gift Wrap Sleeves, an innovative, quick and easy way to wrap a gift. The Gift Wrap Sleeves arrive flat and can be easily displayed. No Scissors required. The box comes with two strips of permanent adhesive, simply slide the gift inside, seal and close and it is a beautifully wrapped gift without the waste. The gift sleeves come in three styles- Ornaments, Happy Holidays and Santa and Snowmen.
Specialty Store Services has many attention grabbing products that will catch the buyers eyes and draw them into the store. Specialty Store Services has a new LED Ribbon Light that can be mounted to windows or around the store. The LED Lights come in a variety of colors: Red, Blue, Green White or a multicolored. The Ribbon Lights can chase, fade, flash or blink with the help of a controller. These light generate very little heat so they are safe to be in stay-on mode continuously. The LED Ribbon lights are so easy to use: just connect together and plug in.
Besides the traditional holiday staples such as gift wrap and boxes, Specialty Store Services carries custom and Christmas themed Posters and Banners that can be created to highlight different products, services or store information. Specialty Store Services has a very talented Art Department that can help bring to life any vision from the retailer. Whatever the Retailer wants to convey, be it Store Logos, Sales and promotional messaging or Social Media on a wide variety of sizes, Specialty Store Services' creative team can do it.
Specialty Store Services carries a wide variety of Gift Certificates and Gift Cards. Gift cards and certificates are a great way to increase sales and profits. Specialty Store Services carries stock gift certificates as well as customized gift cards. Last year at a customer bought at least one gift card during the holiday season and this is a gift that keeps giving to the retailer with higher sales and more purchases.
As always, Specialty Store Services features a selection of reduced and discounted prices on a variety of items on the website. With closeouts on Electronic Safes, security products, and other store fixtures or supplies, retailers can find everything they need at the lowest price, guaranteed.
For more information about Specialty Store Services or to request the new catalog, visit the company's website: http://www.specialtystoreservices.com