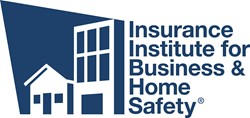 Tampa, FL (PRWEB) October 03, 2013
With Tropical Storm Karen approaching the Gulf Coast, the Insurance Institute for Business & Home Safety (IBHS) urges residents to take steps to minimize wind and water damage from the storm.
"People living in the area where a tropical storm is forecast to strike should take steps to protect themselves and their property against harm," said Julie Rochman, IBHS' CEO and president. "IBHS offers free, effective guidance to help residents prepare quickly, in order to prevent or reduce damage and loss."
Karen formed in the Gulf of Mexico Thursday morning, prompting the National Hurricane Center (NHC) to issue a hurricane watch along the Gulf Coast from Grand Isle, La. to Indian Pass, Fla.
IBHS urges residents and business owners to act now, before punishing winds and wind-driven rain begins. Pre-storm action can greatly reduce damage, and the related need for clean-up and repairs. IBHS offers the following guidance:
Surroundings: Move lightweight loose items that are outside, such as garbage cans, signs, and lawn furniture, into a covered area. Anchor heavier objects deep into the ground. Pick up any debris around your house or business that could become a flying projectile during high winds.
Seals: Inspect around windows and doors. Fill in any significant gaps or cracks with caulking.
Basement: Elevate furniture, appliances and electronic devices off the floor to prevent water damage.
Rugs: Roll up area rugs and remove them from the floor of any room in the basement or on the first floor to reduce the chances they will get wet and grow mold. This is important particularly if the property will be left unattended for an extended period of time, and if long-term power outages are a possibility.
Sump Pumps and Drains: Inspect sump pumps and drains to ensure proper operation. If a sump pump has a battery backup, make sure the batteries are fresh or replace the batteries.
Mobile Disaster App from IBHS/III: Download the Know Your Plan mobile app featuring preparedness checklists, as well as a built-in Google Crisis Response feed with access to local emergency information. The app is available for free on iTunes for use on iPhones, iPads and iTouch devices.
IBHS offers a checklist of actions small-business owners can take 72-hours in advance of a storm to be better protected in "How to Navigate Stormy Weather: Emergency Preparedness and Stormy Weather."
Visit the National Hurricane Center's website to stay updated on the status of Tropical Storm Karen. Additional hurricane resources are available at http://www.disastersafety.org/hurricane/.
About The Insurance Institute for Business & Home Safety (IBHS)
IBHS is an independent, nonprofit, scientific research and communications organization supported by the property insurance industry. The organization works to reduce the social and economic effects of natural disasters and other risks on residential and commercial property by conducting building science research and advocating improved construction, maintenance and preparedness practices.