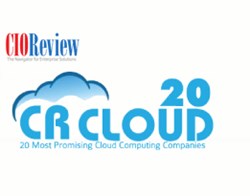 Garden Grove, CA (PRWEB) October 04, 2013
Teletrac Inc.®, a 25-year veteran and award winning GPS fleet tracking software provider, today announced that it was named to CIO Review's list of "20 Most Promising Cloud Computing Companies."
The award is given to businesses that are successfully using cloud computing software to bring innovative products and services to the market. A distinguished panel comprised of industry leaders and analysts scrutinized hundreds of companies and finalized the list based on merit and business innovation.
"Teletrac processes more than 25 million data transactions daily—a volume of data that is growing rapidly alongside the explosive growth of the telematics industry," said Tony Eales, CEO, Teletrac. "Our company utilizes a cloud environment that supports that growth and has the powerful ability to handle data spikes at any level."
The cloud computing market is predicted to see a 130% increase in adoption by 2016—while bracing for "scalability, cost-efficiency and pay-per-use pricing models from cloud services solutions," according to CIO Review.
Teletrac's robust cloud platform serves as the backbone of its Fleet Director GPS software solution, which utilizes tracking data to help reduce company costs and promote safety, compliance and productivity.
About Fleet Director® and Teletrac Inc.
Already proven and trusted by more than 20,000 fleets of all sizes and tracking more than 200,000 vehicles in 75 countries, Teletrac's Fleet Director software solution saves fleet owners time, money, and reduces their carbon footprint. Teletrac customers report up to 30% lower fuel usage, an average of 15% less driver overtime, 12% higher productivity and less unauthorized vehicle use.
Teletrac Inc. is headquartered in Garden Grove, CA. For additional information, visit http://www.teletrac.com, call 1-800-TELETRAC, or contact us via email at: djaconi(at)teletrac(dot)com.
SOURCE: Teletrac Inc.
About CIO Review
CIO Review is a technology magazine that talks about the enterprise solutions that can redefine the business goals of enterprises tomorrow. It is the leading source that shares innovative enterprise solutions developed by established solutions providers, upcoming hot enterprises and is a neutral source for technology decision makers. http://www.cioreview.com/magazine/
SOURCE: CIO Review