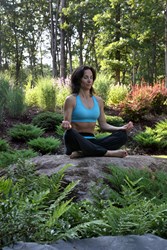 Hawley, PA (PRWEB) October 04, 2013
The Lodge at Woodloch is an award-winning destination spa resort in Northeast Pennsylvania that has always had a philosophy of personal awakening. With a goal of providing experiences of awakening in all forms to guests, The Lodge continually seeks out inspirational souls who can take guests on an enlightened journey. For two days only, legendary yogi Tao Porchon-Lynch will share her practice, wisdom, tales and passion with guests at The Lodge at Woodloch. Guests can be inspired by her dedication, knowledge and warm energy that captivates a room. At 95 years-young, Tao Porchon-Lynch is truly living proof of the effectiveness of a life-long yoga practice. A yoga teacher for over 45 years, she includes in her current life's incarnations: French resistance fighter, model, actress, screenwriter, producer, championship ballroom dancer, wine connoisseur—the list goes on.
Tao's workshops are interlaced with inspiring life stories from her childhood in India and her years of study with many of India's Yoga masters. Her presence and words inspire deep compassion and inner peace. Tao encourages questions and welcomes students who are interested in experiencing her wisdom and joy for life.
Tao's presentation at The Lodge at Woodloch will include:
Thursday, October 3rd from 5:00-6:30pm
An Evening with Master Yoga Teacher Tao Porchon-Lynch
What do you see yourself doing at age 95? Winning prizes in ballroom dance competitions? Flying in a plane over Mt. Everest? Discussing inner peace with the Dalai Lama? Making your dreams come true? Tao Porchon Lynch, "The Guinness Book of World Records' Oldest Yoga Teacher", does all this and more, with a smile, a generous spirit and wearing high heels. Learn how her approach to life's challenges and her practice of yoga can show us all how to live our lives more fully, whatever our age.
Friday, October 4th from 5:00-6:30pm
Explore The Body As Energy: Learn from a Master: Tao Porchon-Lynch
Explore the tools and essence of yoga through a master's eyes. In this workshop you will become aware of the energy that invigorates your life. Learn how to tap your own energy in a way that creates unity between breath, body, mind and spirit, while experiencing breathing, twists, stretches, vinyasas and meditation.
To achieve a sound structure of body-mind consciousness, Tao brings into play the meaning of yoga, in the flow of the vinyasas—the power that links them with the eternal energy of the universe in the "Dance of Life"-meditation in motion. A deeply absorbing meditation inspiring deep compassion and inner peace will conclude the workshop.
Tao's offerings are open to overnight guests and the local community. To learn more call 866.953.8500.
About The Lodge at Woodloch:
The Lodge at Woodloch is one of the finest full-service luxury destination spas in the U.S., offering complete spa programs, treatments, outdoor adventure activities, golf, classes and packages in a pristine mountain retreat environment. Located on over 150 wooded acres with a private lake in the Lake Region of Northeast Pennsylvania, The Lodge provides an oasis for personal awakening and renewal just 2 ½ hours outside of New York City. The exclusive property features 57 luxury accommodations and a 40,000-square-foot spa. Additional information and reservations are available toll-free at 1-866-953-8500 or on the Web site at thelodgeatwoodloch.com.