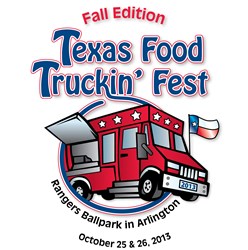 Arlington, TX (PRWEB) October 04, 2013
Eating your heart out will be easy when Arlington rolls out an even bigger plethora of food trucks at the fall edition of the popular Texas Food Truckin' Fest on October 25 and 26, 2013, at Rangers Ballpark in Arlington.
Texas gourmet food trucks, live bands and performers, kids' activities (including bounce houses, balloon artists and face painters) and more will greet attendees during the event. The two-day fest will give foodies much to be happy about as fan favorites like Nammi Truck, Ssahm BBQ, Doughboys Pizza Truck, My Cupcake Garden, Brown's BBQ and many more line the ballpark streets with delectable dishes.
Live bands will feature the musical talents of Dovetail, The Jet Poets, Zach Coffey, Kites and Boomerangs and many more.
The fun kicks off at 4 p.m. on Friday. Tickets are available day of or for advance purchase at http://www.texasfoodtruckinfest.com.
Adults: Friday Pass – $10; Saturday Pass – $12; Weekend Pass – $15.
Children: Friday Pass – $6; Saturday Pass – $6.
Parking is included.
A portion of the proceeds will go to benefit SafeHaven: Freedom from Domestic Violence. SafeHaven works to change the lives of women and children affected by domestic violence every day.
Information on hours, participating trucks, new additions, tickets and more can be found at http://www.texasfoodtruckinfest.com. The event also has up-to-the-minute news and surprises on Facebook at facebook.com/txfoodtruckinfest and Twitter at twitter.com/txfoodtruckin.