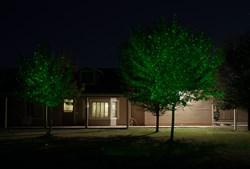 Chandler, AZ (PRWEB) October 03, 2013
Today, Sparkle Magic announces the launch of a crowd funding campaign on KickStarter.com for its game changing revolutionary new product called the "Mini-Illuminator".
The Mini-Illuminator is a miniature indoor/outdoor, energy efficient laser light that allows the user to decorate with 1,000's of glistening lights in a kaleidoscope pattern of color in mere minutes. The minimalist inspired design creates a time saving and hassle-free set up, enabling the consumer to simply aim the "Mini-Illuminator" toward a house and plug it in.
Available on the Kickstarter campaign until November 11th, 2013, the Mini-Illuminator light will be available for pre-order in three colors: Emerald Dust (green), Crimson Stars (Red), and Indigo Twilight (Blue). Each light will include versatile mounting components and an electrical adapter. Built with long lasting durable components, the lifespan of the Illuminator is 7,000 to 10,000 hours of continuous use and comes with a one year warranty.
With the high-tech decorative lighting market on the verge of unprecedented growth, Sparkle Magic's product debut arrives at a pivotal moment in the history of landscape laser lighting. The successful funding of this exciting campaign will allow Sparkle Magic to initiate the first production run of the newly announced Illuminator Laser Light.
To view Sparkle Magic's KickStarter project and see the patent pending Mini-Illuminator in action, visit: http://www.kickstarter.com/projects/sparklemagic/the-illuminator-laser-light.
About Sparkle Magic:
Sparkle Magic is a high-tech lighting solutions company based in Chandler, Arizona. Owned by Arizona native Jim Breen, its mission is to design and develop innovative laser lighting solutions that allow anyone to transform an ordinary environment into a world of splendor. For more information contact Steve Provencio, Business Development Manager, at steve(at)SparkleMagic(dot)com or call 1-800-965-3723.
Connect with Sparkle Magic enthusiasts on Facebook at http://facebook.com/SparkleMagicLights and get the latest news and information from Twitter by following @SparkleMagic.