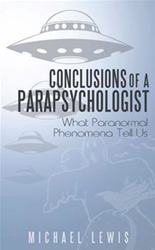 "Other books on the paranormal almost always leave the reader in suspense, without providing any explanation of the meaning and implications of the phenomena described," said Lewis.
New York, NY (PRWEB) October 05, 2013
Experiencing a day in the afterlife and learning what really happened to Princess Diana are just two events that parapsychologist Michael Lewis explains in his new book, "Conclusions of a Parapsychologist."
Shifting away from traditional ghost stories, Lewis' novel details his own real-life events as a parapsychologist. In his book, Lewis explains what his paranormal encounters mean for the rest of the world.
Lewis draws up on his own near-death experiences, which radically altered his own conclusions about the paranormal. As someone who prefers theories with a sound basis in fact, Lewis has embarked on extensive training and education to learn all he can about the supernatural. With his book based on fact, it provides a unique look at the world around us and draws startling conclusions that few have dared to make.