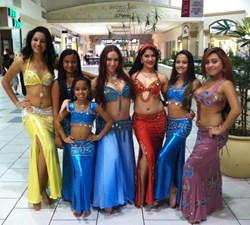 Miami, FL (PRWEB) October 03, 2013
Southland Mall continues to present their popular "Festive Fridays" event series during the month of October. This month features local performers and interactive experiences that will highlight diverse cultures, music and art forms. Every Friday, shoppers are invited to the mall's Center Court to enjoy live music and entertainment alongside their friends and family from 6:00 p.m. to 8:00 p.m.
Below is a list of events for the month:

October 4th – The Greater Miami Youth Symphony will showcase one of their string quartets as they perform both classical and modern music.
October 11th – Join the "LA Style Salsa Dancers" from "A Party Hall" as they perform their best salsa dance moves and offer mini salsa classes throughout the evening.
October 18th – Richmond Heights Middle School will be joined by their animal friends from Zoo Miami in an effort to share information about their Zoology Magnet Program.
October 25th – Enjoy unique belly dancing performances by intermediate and professional dancers from "Bellydancing by Shayna." The National Karate's "Team Shendo" will also perform self-defense and karate routines that are kid friendly and easy to learn. Shoppers will be able to sign up for classes during the event!
"Festive Fridays" are free events that are open to the public. Southland Mall is conveniently located on U.S. 1 and S.W. 205th Street, off the Florida Turnpike, Exits 11 or 12. For more information on Southland Mall or to learn about partnership opportunities for upcoming "Festive Fridays," email inquiries to info(at)thinkpeacock(dot)com.
###
About Southland Mall
Southland Mall, located in South Miami-Dade County, Florida, the densest, most populous county in the southeastern portion of the state of Florida, has over 1 million square feet of gross leasable area. Southland Mall is conveniently located on U.S. 1 and SW 205th Street, off the Florida Turnpike, Exits 11 or 12, and is the only enclosed regional mall servicing South Miami-Dade County down to the Florida Keys. Southland houses over 100 specialty stores, including Macy's, Sears, JC Penney, TJ Maxx, Old Navy, Starbucks, a 16-Plex Regal Cinema and diverse Food Court. For more information about Southland Mall, visit mysouthlandmall.com on your mobile device, follow us on Twitter @solandmall, 'Like' us on Facebook at southlandmallmiami, or call (305) 235-8880.
About Gumberg Asset Management Corp.
Gumberg Asset Management Corp., a diversified real estate retail organization with a tradition of uncompromising integrity and unbeatable performance is the manager of Southland Mall. For further information, visit the Company's website at http://www.gumberg.com.