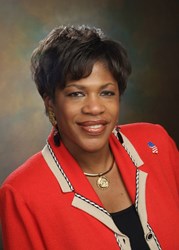 Newark, N.J. (PRWEB) October 07, 2013
Karol Corbin Walker, a Newark-based shareholder in national law firm LeClairRyan, has been appointed to the American Bar Association's Standing Committee on the Federal Judiciary as the representative for the Third Circuit. Appointment to the Standing Committee is based on a lawyer's possession of the highest professional stature and integrity. Walker assumed her duties in August 2013.
The ABA's Standing Committee evaluates the professional qualifications of prospective nominees to the lower federal courts -- the U.S. District Courts and Courts of Appeals—in advance of the president making a nomination. The Standing Committee's evaluations of the professional qualifications of nominees to the U.S. Supreme Court are conducted on a post-nomination basis.
In conducting its evaluation of each prospective nominee, the Standing Committee focuses strictly on professional qualifications: integrity, professional competence and judicial temperament. The Standing Committee does not take into account a prospective nominee's philosophy, political affiliation or ideology. The Standing Committee's objective is to provide impartial peer-review evaluations of the professional qualifications of prospective judicial nominees in order to assist the White House in assessing whether such individuals should be nominated to the federal judiciary.
A veteran litigator with an active practice in New Jersey and New York, Walker was the first African- American woman to attain partner status at any major New Jersey law firm. In 2003, the Morris County resident became the first African-American President in the then 105-year history of the New Jersey State Bar Association (NJSBA). She served as president for the 2003-2004 term, taking her oath of office before a record number of attendees. In 1998 she was the first African-American appointed as Chair of the NJSBA's most prestigious Judicial and Prosecutorial Appointments Committee. Walker also served as the president of the National Council of Bar Presidents for the 2012-2013 term. She has been recognized for her legal acumen in The Best Lawyers in America, Law & Politics and New Jersey Monthly magazines.
About LeClairRyan
As a trusted advisor, LeClairRyan provides business counsel and client representation in corporate law and litigation. In this role, the firm applies its knowledge, insight and skill to help clients achieve their business objectives while managing and minimizing their legal risks, difficulties and expenses. With offices in California, Connecticut, Massachusetts, Michigan, New Jersey, New York, Pennsylvania, Virginia and Washington, D.C., the firm has approximately 350 attorneys representing a wide variety of clients throughout the nation. For more information about LeClairRyan, visit http://www.leclairryan.com